Are you looking for an SEO course in Delhi? In DigitalHikes we give the best training in Search Engine Optimization and Digital Marketing training that leads you to a better future. You can get a high-paid job or work freelance after completing the SEO course from us. Digital Hikes is the best SEO training institute in Delhi that teaches advanced SEO techniques to its students.
In our institute, We have 10+ years of working as experienced instructors in Digital Marketing and Online Marketing. If you want to kickstart your career in Digital Marketing then SEO Course In Delhi is the best option for you.
Nowadays, Digital Marketing is one of the best career options. That's the reason why many youngsters chase it. But there are many SEO institutes in Delhi that provide not provide the best SEO course syllabus like us. But We are different from other Institutes because of working methods and modules. We give our best to each and every candidate to make him an SEO expert in the SEO Course. That's the reason what makes us the best Institute of SEO Course in Delhi 2023.
Learn more about our Digital Marketing Institute in Delhi.
Modules of SEO Course in Delhi
Search Engine Optimization Course contains some major parts as well as important. Here is the module of our SEO Training in Delhi Course that utmost your Digital Marketing knowledge.
Basic of Web Hosting & Domains
Before starting the SEO course every student must know the basics of web hostings and domains. We also teach Why they are used and how to get the best web hosting & domain. When we clear all the doubts of students after that we proceed to the next step of our Digital Marketing SEO course.
Basic of Search Engine
Every candidate who is interested in Digital Marketing must have knowledge of search engines. "What are Search Engines and how do they work?" having knowledge of questions like this is a must. That's why in Digital Hikes we train students from the core of SEO. We teach every little detail of search engines and websites so students can engage better with SEO terms.
Types of SEO Techniques
Before heading to SEO a student must have knowledge about different types of SEO techniques. Each SEO technique plays an important role in its own way. Basically in Search Engine Marketing techniques, there are three types of SEO:
Black Hat SEO

White Hat SEO

Grey hat SEO
On-Page Optimization
"Content is King" and On-Page makes it Lord to the search engine. The simple rule of a search engine is that you can't rank a page on top without On-Page optimization. That's the reason why why we focus on On-Page optimization so much. On-page is one of the main elements of the SEO course in Delhi that is taught by expert trainers.
Here are some main parts of On-Page SEO that you will learn at the best SEO training institute in Delhi.
Use of Meta tags

Image Optimization

Slug/URL Changes

Best use of Anchor Text

Robot.TXT file

Use of Heading Tags

Page rank Techniques

Tips for SEO-Friendly Articles

Removal of Content Error

Inter-Linking
Off-Page Optimization
Off-page plays an important role in SEO as On-Page does. To stay on Peek of search engine results you must use Off-page techniques too. This technique helps for long-term gains and stands out your website from your competitors. Many Digital Marketing Institutes in Delhi ignore this most important module of SEO but we don't. Our qualified Educators serve the best Search Engine Optimization syllabus that you definitely can't get from anywhere else.
We teach many tactics in Off-page SEO that distinct your personality. These techniques, some of them are old but useful and some of them are new. If you have the devotion and enthusiasm towards learning some hidden techniques of Off-page then DigitalHikes is the best choice for you.
Some popular parts of the Off-page SEO course in Delhi that we teach to our students.
Off-Page Basics

Difference between Off-page and On-page SEO

Introduction to Backlinks and why they important

Do-Follow, No-Follow Tags

Guest Posting and Article Submission

Social Bookmarking

Listing
Everything About Keywords
If you know how to pick good keywords and how to use them naturally then you mastering SEO is very easy. In our digital marketing course, you will learn how to use keywords properly. Our expert trainers teach you the best tips and tricks to find high-traffic keywords and utilization them. You will learn from basic to advance keyword strategy in our SEO course which is as below:
What is Keyword?

Types of Keywords

What is Keyword Density

Using Primary, Secondary and other keywords

How to find high-traffic keywords

Use of LSI Keywords
Google Tools
Google provides some very powerful and useful tools to analyze a website. With the help of these tools, you can make a report of your top pages, and your ranking keywords and then work on them. In the Digital Marketing Institute In Delhi, you will learn the smartest and easy way to use Google Tools. You will learn the Google webmaster tool, Google Analytics, and many other tools at the SEO Training Institute in Delhi.
Google Algorithms
Google frequently updates its algorithm that changes the ranking of a website. Having knowledge of the Google Algorithm is very important if you want to gain the benefit of search engines. SEO Institute in Delhi is aware its students about all algorithms and how to utilize them. There are a total of 8 major Google algorithms that you will learn in our SEO course:
Panda Algorithm

Penguin Algorithm

Hummingbird Algorithm

Pigeon Algorithm

Mobile Algorithm

Rank Brain Algorithm

Possum Algorithm

Fred Algorithm
Miscellaneous SEO Tricks
There are many topics in our SEO course syllabus that ain't categorized. In this category, we teach some common and advanced mistakes that many beginners (even some experts) do. Keyword stuffing, spamming, Content Plagiarism, Cloaking and Targeting wrong keywords are some mistakes that many people do. In our digital marketing course, we teach our students about all these techniques and the cons of using them.
Who can join SEO Course in Delhi?
For SEO coaching, there are some criteria decided in our SEO Training Institute in Delhi that should be fulfilled. Here are some criteria which are decided for learners:
A student must be at least completed his/her high school degree(12th pass).

Basic Computer knowledge.

Passion for Digital Marketing / Online Marketing

Punctual during SEO Course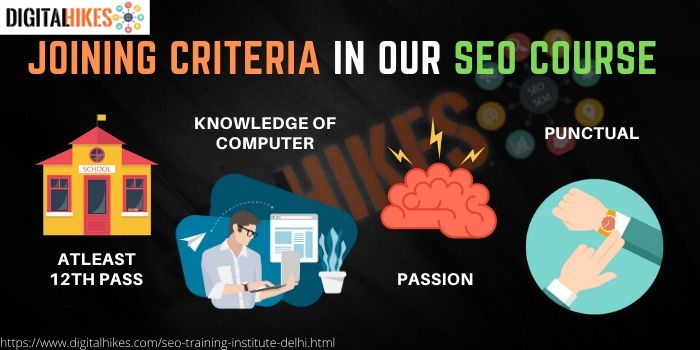 A student should fulfill the above criteria if he/she wants to be an SEO expert n the future. If you have all these skills then we will take you to the next level to achieve your goal.
SEO Course Duration in SEO Institute in Delhi
We understand that not everyone has the same time to take SEO classes every day. That's why we came up with the best solution for it. We have made some different batches for our students so they can complete SEO Courses according to their comfort.
SEO demands consistent practice from a beginner as well as an expert and that's why regular classes are best. We, Digital Hikes offer daily SEO classes to our students. The classes are available Monday-Saturday from 10:00 AM to 5:00 PM (2 hours daily).
Students who are taking college classes on alternate days and not available for regular classes can take alternate batches. In the Alternate batch, we give 3-days classes a week. You can take Monday-Wednesday-Friday batch or Tuesday-Thursday-Saturday classes(2 hours daily) as per your comfort.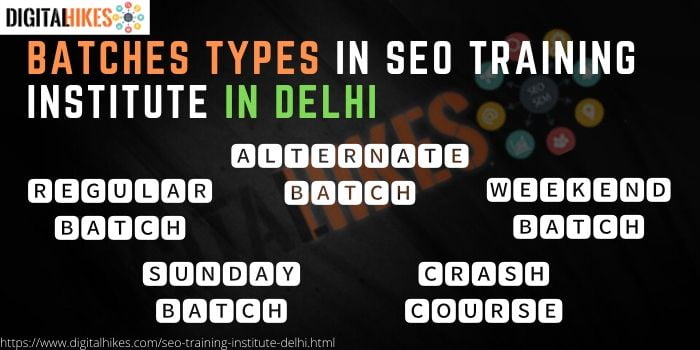 Weekend batches are available for those students who are currently studying regularly in college. Also, it is best for those employees who are working in a company and want to make their future better. Weekend Classes are available on Saturday and Sunday from 11:00 AM to 5:00 PM (2 hours daily).
We agree that many people don't have time for regular classes. That's why Sunday batches are available to those students who are interested in our SEO course. Sunday classes are available from 11:00 AM to 5:00 PM (2 hours daily).
Crash-Course means finishing a long-term course in a short duration. Those students who are available for a limited time period can take our crash course. A special facility is available for the crash course.
Why DigitalHikes is the best SEO training institute in Delhi?
There is no doubt that our SEO coaching is the best. We stand out from other SEO institutes and provide the best services and facilities to our students. Promises that you hear from other institutes are fulfilling here only. Every single candidate who learned SEO from us is either working on a top MNC or doing Freelancer.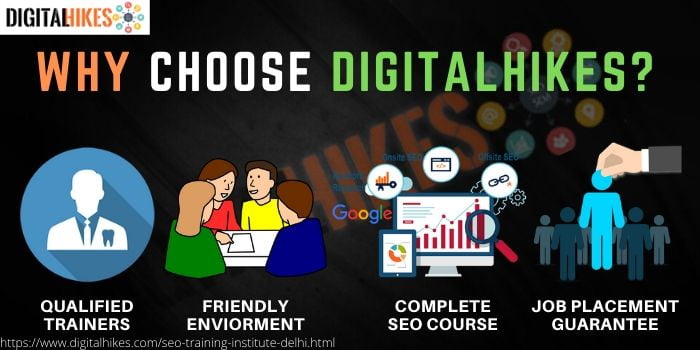 Why Digital Hikes is best for SEO courses in Delhi over other Institutes?
Qualified Trainers
We have qualified trainers who have more than 10 years of working experience in Digital Marketing. Each of them is specialized in different tactics.
Friendly and Learning Environment
We believe that you can teach students with only strict behavior. A friendly environment is most beneficial for fast learning compared to boring lectures. Trainers are very polite and friendly here.
We Love to Listen to Your Queries
There are many SEO institutes in Delhi that provide SEO courses. But in reality, many of them are just making money and don't give a good education. Once you have paid your fee they start ignoring you and don't listen to your queries. But here in Digital Hikes, We not just only listen to your queries but also work on them. We have promised to provide the best SEO training in Delhi and we already working on it.
Basic to Advanced SEO Course
We are unlike other institutes that only provide basic SEO courses. Here you will get from basic to advance SEO Courses according to student needs. If you know the basics then you can take advanced classes.
Complete Training On Live Projects
Live projects are the best way to learn SEO. Whether other institutes only teach their students by demo works or theoretical. Here in Digital Hikes, we give SEO training on live projects so the students can easily face any interview.
Free Demo Classes
Demo classes are the best way to identify any SEO training Institute. We provide 1-day free demo classes so students can decide their future easily.
Laptop and Internet Facility
We provide a Laptop and internet to our students in the SEO course syllabus in our Training Center. There are many middle and low-class family students who can't afford laptops and after looking at all these points we came up with this solution.
Placement Guarantee
The best thing about SEO Institute in Delhi is you don't have to wonder for a job after completing the SEO course. We give a 100% job placement guarantee that you can't get from anywhere else.