Every website owners have a desire to get instantly rank on SERP but the truth is that to appear on the first page and the first position is not so simplistic assignment. We all know how to Search Engine work. A newbie site cannot easily rank on SERP but here are some new SEO trends 2023 to a beginner as well as whom all are not getting better ranking on SERP. "Let's take a look at some of the latest trends in SEO that can help you improve your search rankings in 2023.
Optimize Your Content to Maximize "Shareability" to all social Network Sites.
Publish Your Content with At Least 1,500 Words
Update or Republish your old Content
Steal the best Keywords from your Competitors
Ubersuggest Will Assist You to Find a High Authority Backlinks
How backlinks give you more traffic?
Use the Google Search Console to Get More Traffic
Get keyword and content ideas from the Wikipedia
Insert Long-tail Keyword Keyword in Your Title Tags
Perform full SEO Audit of your website
Optimize Your Content to Maximize "Shareability" to all social Network Sites.
Content optimization is definitely part of SEO but this is not necessary your content went viral on social media with the help of SEO. This all depends on all users what they want to learn and share.
New research has been done in which found if your solving human problem ( It can be the "best digital marketing course in Delhi or "How digital marketing is a carrier option" etc.) then the chance of viral or shareability your content increases.
So here is a new SEO trend for 2023 in which you will totally understand how your content should be.
Use High-quality and image in Your content which describes your content value in short.
Make Your sentence short
Use High Infographic images
Creative images help to promote on social media
Set Featured images in your website
Put social share buttons prominently on the page like twitter, facebook, Reddit, etc.
Content should emotional (wow, great)
Focus on your main Keyword
Give the proper Headline
Use bullet, number, Table and many more.
If you follow these guidelines while writing content then you can make your content shareable.
Publish Your Content With At Least 1,100 Words
According to Backlinko Research in which found, Google is showing that a result of which websites have more than a thousand-word content.
Why Google prefers those websites that have more than 1500 words content?
Well, the answer is Google Consider the information which you are providing which is so in-depth. So Google prefers that website as compared to 200 words content's website.
If your websites have huge word content then it pushes a visitor to share. University of Pennsylvania's Dr. Jonah Berger found that content that evoked awe made people 30% more likely to share it.
This new on-page SEO technique does not allow all types of categories. It depends on your business what type of service or product you are giving. Sometimes you have news websites in which you only update a piece of news so people have no time to read your accomplish content.
Let take a simple example of SEO roundtable is a niche website that always gives short news about a Google algorithm update. Even that website is on top while some search "latest google update"
Update or Republish your old Content
It has been shown updating and republishing your content makes your post wondrous and helps to give drivers more traffic to the same content. Instead of writing new content you should update your old content.
So what step you should take while updating your wondrous old content.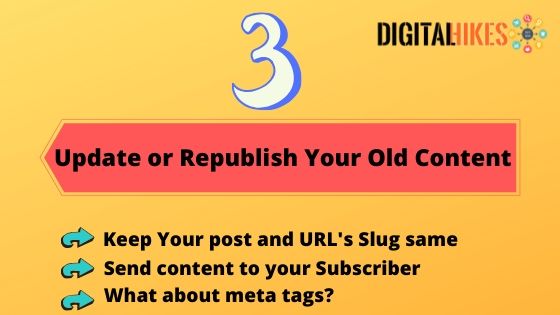 Keep Your post and URL's Slug same
While Republishing content. Don't try to change slug because if you do it then it can create so many obstacles like it can affect your ranking and so much time to take back your own ranking. So just add content in your existing post and update it.
Change the title and keep the same keyword
If you are sure your new title is so attractive than the previews then ignore it. Don't try to change the keyword because it will also harm your ranking as well. As we know inserting a keyword in content with keyword research like Ubbersuggest is also the part of new SEO trends 2023. Above we discussed keep URL same don't touch it you love your ranking.
Well, Meta does not affect your ranking but it can affect your click-through rate from search.
Send content to your Subscriber and share on social sites
It is important to share accomplish updated content over the social media site and even for your subscriber. Eventually, they help you to drive traffic more.
Steal the best Keywords from your Competitors
We are not discussing just use competitors' keyword on which they are ranking either you use Semrush, Ahref, and Spyfu to choose the best keyword. Selecting right is not a lenient task but these paid tools which definitely help to surpass your competitor in term of keyword researching.
There is another option to use the competitor's keyword then you can also use Semrush or Ahref tools which are listed in best SEO keyword tools. Later we will discuss what is the importance of long-tail keyword? It might be a possibility your competitor are implementing this latest trend in SEO.
Ubersuggest Will Assist You To Find A High Authority Backlinks
The importance of backlinks has been excellent for your website as you already know. Creating a high authority backlinks again is not an easy task but again it is possible to increase your domain authority via building backlinks.
Just go to Neil Patel website and enter your competitor's website or another website to analyze their backlinks.
How backlinks give you more traffic?
Creating backlinks is a part of off-page SEO techniques but how it gives you more traffic again. Definitely, if you are aware of link building techniques like
Guest Posting
Blog commenting
Forum commenting
Question and answer website like Quora
 Article submission
 Social bookmarking
 Press release
Directory submission
and many which will give you backlinks for your site. While building links when you give anchor text backlinks that are responsible for increasing visibility on SERP and ultimately it will give traffic your site. The more you work on anchor text backlinks then your website authority will increase and again your traffic will improve.
Ubbersuggest is amazing free tools that give backlinks when you enter your competitor domain name then absolutely it will give you high authority backlinks.
Use The Google Search Console to Get More Traffic
Plenty of people still do not know what are the advantages of the search console because of the lack of accomplishing knowledge? They think search console is just for indexing, manual action and checking for external and internal backlinks. But we want to tell you if you want to rank on SERP as faster than your competitor than you must know how you can surpass them.
First, you already aware of impressions and clicks in search console when you click on performance. It shows you query, pages, country, Device, Search appearance, Dates when you scroll towards the bottom.
Second, when you click on queries then you saw how many clicks on that keyword and keyword's impression. So what you should do, you have to focus on those keywords which have a huge impression.
Third, you can make backlinks with that keyword because backlinks are great and great options to get better ranking on that keyword.
Fourth, you have to just focus on impression, not on click. Clicks matter but not more than the impression.
Additional search console feature
Links: Great feature in search console, it will show your internal and external backlinks. You analyze your website and remove your harmful links with the help of disavow tools.
Disavowing your harmful links is also count in the New SEO trends 2023. So take advantage of it.
Sitemap: Help you to add a sitemap for your website.
Get Keyword and Content Ideas From The Wikipedia
Wikipedia is filled with Enlightenment. Once in life, you would have read something on Wikipedia. But now the time has come to know what's real benefits of Wikipedia which you may learn SEO course in Delhi or not. What you have to do with Wikipedia,
Just past a keyword "digital marketing" and click on search and scroll down. You got Content, with the help of this you can get content ideas from this area.
Now, Scroll more then you will find "See also". Here you can analyze your best keyword for your website.
Internal links on is also a great option to find more details for your keyword.
Insert Long-tail Keyword In Your Title Tags
Your targeted keyword should come in your title tags. Every SEO expert knows why it is necessary when we talk about how search engine bots read your title tags and Meta tags. So search engines read first your title tags and then Meta description.
By reading your title tags bots easily recognize you what your content is about. This title tag is not only for bots even it helps to the user.
In the SEO Case study in which found, webmasters who are implementing on this technique their level of ranking on SERP is better than those who are not using long-tail keyword in title tags.
Perform full SEO Audit of your website
There are so many free SEO audit tool online which helps you accomplish SEO audit to your site. It will show you an error in Your website like___
Short Meta Description
Duplicate Meta description
Without H1 title
Images with have no alt tags
Page loading speed
So poorly performed URL for SEO
Title with no targeted keyword
Meta description with no targeted keyword
SSL certificate
Use the Flash content
Too Long URL
Have temporary Redirection
Density of keyword
These errors will show when you SEO audit of your website. If your sites have an issue then definitely some free SEO audit tool online will help you to resolve them. Here are some free SEO audit tools.
Ubersuggest: It is one of the free amazing tools which will definitely show all your website error. By analyzing your error you can easily fix them. As we discussed auditing your website enhances your website performance on SERP.
Screaming Frog: It gives you Free SEO audit but up to 500 pages, After 500 pages you would have to pay them. This is such a great deal if your websites have up to 500 pages then you should use this SEO audit tool.