We will discuss Digital Marketing Interview Questions that will help you in the future. We are going to tell you everything about Digital Marketing and we will give you some tips on how to prepare for the interview in digital marketing.
If you are looking for a job or future in Digital Marketing, then this article will help you a lot and you will learn many such things that you may not know. These interview questions will help you in your interview preparation. Read the article carefully till the end.
Digital Marketing Interview Questions and Answers for Freshers
Some of the Digital Marketing Questions that might be asked in an Interview related to the Digital Marketing Interview Questions are as Follows:-
Briefly Explain Digital Marketing?
Digital marketing involves leveraging digital platforms and tools to promote and advertise products or services on the Internet. Its aim is to connect with a specific audience and stimulate business expansion.
Examples of digital marketing strategies include receiving promotional emails from a company, encountering advertisements on YouTube, or seeing pop-ups while browsing a website.
Digital marketing shares many principles with traditional marketing and is often viewed as an additional avenue for companies to engage with consumers and gain insights into their behavior.
Companies frequently integrate both traditional and digital marketing methods into their strategies. However, digital marketing presents its unique challenges, including the issue of implicit bias.
What are the types of Digital Marketing in the industry?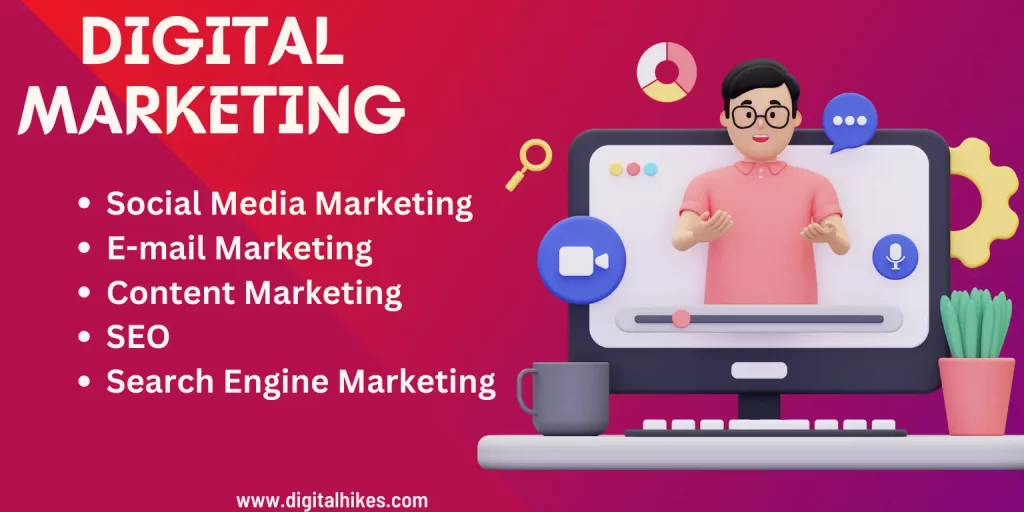 Digital marketing encompasses various types and channels, each serving specific purposes in the industry. Here are some of the key types of Digital marketing Interview Questions:
Search Engine Marketing (SEM): Advertisers compete by bidding on keywords to have their ads displayed when users search for particular terms.
Search Engine Optimization (SEO): SEO concentrates on enhancing website content to boost its natural (unpaid) search engine rankings. The objective is to enhance visibility and draw in a greater amount of organic traffic.
Content Marketing: In this, you have to attract people with your content and bring huge traffic through your content.
Social Media Marketing: This involves social media like Instagram and Facebook. You can promote your product through Instagram and Facebook.
Email Marketing: Email marketing consists of sending specific emails to a roster of subscribers. Its purpose is to cultivate leads, advertise products or services, and sustain customer relationships.
Affiliate Marketing: Companies collaborate with affiliates to endorse their products or services, offering them a commission for sales generated through their referrals.
Influencer Marketing: Partnering with influencers in particular niches or industries to advertise products or services to their committed and engaged followers.
These were the main types of Digital Marketing. There are more types like online advertising, mobile marketing, video marketing, remarketing, etc.
Why Has Digital Marketing Grown To Be This Huge Compared To Offline Marketing?
This question is commonly posed during digital marketing interviews. In recent years, digital marketing has showcased its formidable influence, and here are some of the most persuasive factors:
Directly addresses customer needs, provides extensive exposure for product outreach and analytics, offers a convenient means to connect with a global audience, and allows for rapid implementation of changes when necessary.
Differentiate between direct marketing and branding?
Direct marketing's goal is to boost a company's revenue by generating demand while incorporating storytelling in brand marketing to enable a deeper connection with your audience.
Direct marketing directly influences top-line revenue and usually receives a high level of urgency and priority. Conversely, brand marketing leaves a lasting imprint on brand equity and serves as a shield against market pressures. While it may not be urgent, its significance is undeniable.
Direct marketers frequently prioritize testing and measurement, while brand marketers focus on achieving differentiation.
Few Digital Marketing trends for this year
Short DIY videos
Telling a real story or example
Audience-focused content
Personalized content
Using AI in content
Google Discover
NFTs are used by Marketers
What are some of the popular digital marketing tools?
There are some popular tools that are used in Digital Marketing. Read the answer carefully and we have discussed all the basic tools that one should know:
Google Analytics- The Google Keyword Planner is a tool that can help you find keywords for your Search Network campaigns. It's a free application that enables you to discover keywords related to your business, assess their monthly search volume, and determine the cost of targeting them.
Kissmetrics- Kissmetrics is a robust online analytics software that offers essential website insights and measures customer engagement.
Ubersuggest- Ubersuggest is an online SEO (Search Engine Optimization) and digital marketing tool that provides various features and insights to help website owners, marketers, and businesses improve their online presence.
Ahref– Ahrefs.com is an excellent tool for backlinks and SEO analysis.
What are the four C's of Digital Marketing?
Customer
Content
Context
Conversation
Conclusion
Hope you have read all the questions that are mostly asked in Digital Marketing Interview Questions. We have given answers to all the questions and if you find this helpful then you can share this with your friends and family as well.