Starting a freelance digital marketing course can be a rewarding experience. The right training can help you develop the skills and knowledge required to successfully market your own work online.
There are many online courses and programs that can give you the foundation you need to start and grow your freelance business. Start by researching what types of courses are available, and then check out some of the best options in the marketplace. Let's start the conversation on the freelance digital marketer guide to get incredible benefits to enhance their knowledge in the IT industry.
Essential Keys To Become A Freelance In Digital Marketing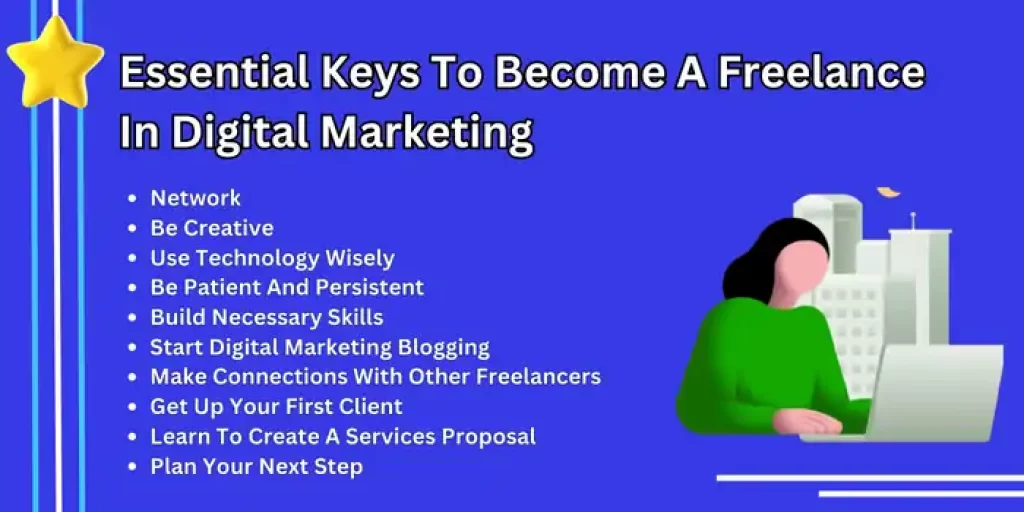 As a digital marketer, you are constantly seeking ways to improve your skills and grow your business. One way to do this is through freelance work. Here are some essential keys to becoming a successful freelance digital marketer:
Network: Connect with other digital marketers and learn from them. This will help you develop better strategies and increase your network of contacts.
Be creative: Stay up-to-date on the latest trends and techniques in digital marketing so that you can be creative with your marketing campaigns.
Use technology wisely: Utilize all the latest technology tools to help you reach more people with your marketing messages.
Be patient and persistent. Don't give up if your first few freelance projects don't achieve the results that you want them to – persistence will pay off in the end!
Build the necessary skills to become a professional in your own business on freelance platforms.
Start a digital marketing blogging in which you can write blogs regarding the digital world to enhance your knowledge fast.
Make robust connections with other freelancers to make a long time collaboration to get more advantages.
Get up your first client to make your reliance to do more as you don't think in the freelance digital marketing field.
Learn how to create a services proposal to get more clients in the meantime of becoming a freelance digital marketer.
Plan your next step of what you have done in your mind to do the next big step for more benefits.
Top 10 Benefits of Freelancing Digital Marketing Jobs
Freelancing has become a popular career choice for those looking for flexible work opportunities. There are many benefits to freelancing digital marketing jobs, including the ability to set your own hours, control your income, and have more control over your career. Here are 10 of the most important benefits of freelancing digital marketing jobs:
A huge demand for freelancers in India: Yes, you heard correctly in India there are many freelancers who are making their career in digital marketing jobs.
Freedom to do work at your own pace: doesn't matter where you are and how you'll freelance. You just need to have a laptop to complete your essential tasks.
Chance to build your online reputation: build your online reputation to do work as a freelancer in the digital marketing field.
Let's control the workload: yes there is no target work for you as a freelancer in digital marketing online.
High earning potential: it means in the freelancer digital marketing jobs you can get your dream pay scale easily.
Choose relevant projects: Choose the right project to complete your digital marketing tasks.
Allow you to build your own brand: Your quality or best techniques can help to build you like a brand in the freelance world.
Learn more instead of your field: You have many great opportunities to learn instead of digital marketing courses.
Make strong collaborations with agencies, brands & peers: While doing freelancing digital marketing jobs you can make strong collaborations with agencies, peers & brands also.
Boost your new creativity: yes, you can also boost your learning on the freelancing platforms that you're still working on.
How Much You Will Earn After Becoming Professional In Freelancer Work?
If you are thinking of becoming a professional freelancer, it is important to first understand what type of work will net you the best income. According to the National Freelance Association (NFA), the average freelancer in India earns Rs. 30,000 to Rs. 50,000 per month. However, depending on your skill set and experience level, your earnings can be significantly higher or lower than this figure.
Can Become A Bright Future Of Freelancer In Digital Marketing Jobs?
Freelancing has been around for centuries and continues to grow in popularity. There are many reasons why people choose to freelance, including the flexibility and freedom it offers. With so many opportunities available as a freelancer, there is no doubt that the future of freelancing is very bright.
Here are some of the reasons why the future of freelancing is looking so promising:
There is a growing demand for skilled freelancers in all areas of digital marketing. This includes positions such as social media managers, web developers, copywriters, and more. As more businesses turn to online marketing to reach their target audiences, there is an increasing need for skilled professionals who can help them out.
Freelancers can work from anywhere they want, which means that they can take on any project that comes their way.
How do I get my first freelance digital marketing job if I have no experience to show?
If you're looking to break into the world of freelance digital marketing, but don't have any experience to show potential clients, don't worry – there are still plenty of ways to get your foot in the door.
One of the best ways to start your freelance career is by working for free – or for low rates – for a friend or family member's business. This will give you the opportunity to build up your portfolio and show potential clients what you're capable of.
Another option is to reach out to small businesses in your local community and offer your services at a discounted rate. Many businesses are happy to take on inexperienced freelancers if they're willing to work for less.
Finally, don't forget the power of networking! Get connected with other professionals in the digital marketing field and let them know you're looking for work. You never know when a lead might come your way.
How Much Experience Must In The Digital Marketing For Freelance Job?
There is no one answer to this question. The amount of experience required for a freelance digital marketing job will vary depending on the specific position and the company hiring. However, in general, it is advisable to have at least a few years of experience in the field before attempting to freelance.
This will help you build up a strong portfolio and network of contacts, both of which are essential for success as a freelancer. Additionally, many companies prefer to hire freelancers who have some level of experience working with their specific software or platform, so be sure to highlight any relevant skills or experience you may have on your resume or website.
Can I Start My Own Digital Marketing Business With Two Year Experience?
If you have two years of digital marketing experience, you can absolutely start your own freelance digital marketing business! The great thing about freelancing is that you can be your own boss and set your own hours. You can also choose to work with clients that you find interesting and inspiring.
To get started, you will need to create a portfolio of your previous work to show potential clients. You should also put together a list of services that you offer and pricing information. Once you have all of this ready, you can start reaching out to potential clients and pitching them your services.
If you put in the hard work, it is possible to build a successful freelance digital marketing business with just two years of experience. So don't hesitate to get started today!
Thank You For Giving Your Precious Time
We hope that you spend your fantastic precious time with us on this blog. We hope that beginner freelancers have understood all the necessary keys to making a bright career in digital marketing jobs.