In simple words, Online Reputation Management (ORM) means changing people's views or perceptions of an organization, Brand, Individual, or other things. A business's online reputation can be influenced by various factors, such as reviews, social media comments, and news articles.
Negative feedback can spread like wildfire on the internet, damaging a company's reputation. This is where online reputation management (ORM) comes in.
ORM is the process of controlling and influencing a company's online reputation, and it has become a necessity for businesses of all sizes.
That's why your business also needs ORM services which are provided by Digital Hikes one of the best digital marketing services providers.
5 Ways Of Online Reputation Management For Business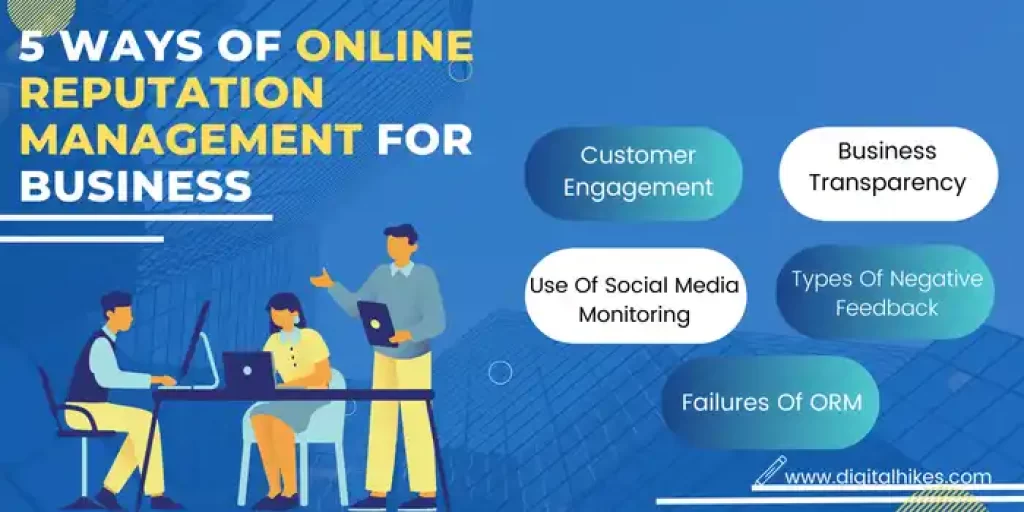 ORM is essential for a business to maintain a positive image on the internet as we know a negative reputation may lead to failure. So, here we'll tell you five ways of managing online reputation for your business.
Customer Engagement
One of the best ways to manage a business's online reputation is to engage more with your customers. Through customer engagement, businesses can build strong relationships with their customers. Engaging customers means responding to reviews and comments of customers in a professional manner.
You should respond to positive as well as negative comments from customers. Responding to negative reviews and comments shows that you value your customers' feedback and want to improve their experience.
It is important to encourage customers to leave positive reviews after using products or services on your website or social media page which will help you to boost your online reputation.
Business Transparency
Business Transparency is essential in Online reputation management for building trust with your customers. Transparency means being open and honest about your business products, services, and policies.
By maintaining transparency, businesses can build a positive online reputation and can show themselves as a trustworthy brand. For increasing transparency, businesses can provide detailed product descriptions and specifications, can offer clear pricing & refund policies, and provide accessible customer service channels. Being transparent can help build a loyal customer base and improve your online reputation.
Use Of Social Media Monitoring
Social media monitoring is an essential way to manage a business's Online reputation. By monitoring social media platforms regularly you can easily identify any negative comment or issue and can respond to them in a timely manner. You can aslo track industry trends and opportunities for growth by monitoring social media.
By monitoring social media correctly businesses can ensure they are providing a positive customer experience and effectively managing their online reputation.
Also, there are various social media monitoring tools like Buffer available that businesses can use to track and analyse data. You can gather tools/extension info from Chrome extension for digital marketing articles.
Types Of Negative Feedback
Understanding the different types of negative feedback can help businesses in managing online reputation. Negative feedback can come in many forms, including negative reviews, online complaints, and trolls/haters which can damage or lead to the failure of online reputation management of a business. So, here are the types of Negative feedback
Criticism: This type of feedback is specific and provides suggestions for improvement. Business can improve their products and services by addressing them.
Trolling: Trolling refers to comments or reviews that are intentionally inflammatory or derogatory and businesses should avoid engaging with trolls.
Misinformation: Misinformation can spread quickly online and can damage a business's reputation. So, it is very important to monitor timely and address any misinformation.
Failures Of Online Reputation Management
Businesses need to be aware of potential pitfalls when it comes to online reputation management. Some mistakes can lead to the failure of ORM.
Ignoring negative reviews and comments or responding in a defensive manner. This can fail to damage your online reputation and drive away your customers.
Not monitoring your online presence regularly, you should regularly monitor every review, comment, and news article to identify issues and solve them.
If your policies or pricing is not clear/ transparent that can also be one reason for failure.
Avoid these mistakes in Online reputation management for maintaining your positive reputation for success.
Some Common Mistakes To Avoid While Managing An Online Reputation
When managing an online reputation, it's important to avoid some common mistakes that can damage a business's reputation and can lead to the failure of Online reputation management. These mistakes include:
Ignoring Negative Feedback– The Main factor of damaging a business's reputation
Overreacting To Negative Feedback– give an image of a defensive or unprofessional business
Lacking Transparency– may lead to decreased Trust in customers
Not Monitoring Social Media Timely– can miss feedback and ongoing trends
Failing To Adapt To Changing Trends– can make a business seem outdated
These are some common mistakes, by avoiding them you can build a positive online reputation for the business.
What Are The Benefits Of Online Reputation Management?
There are many benefits of ORM including building trust, improving customer engagement, enhancing brand image, and building strong relationships. By actively monitoring and addressing all types of feedback, businesses can maintain a positive brand image which leads to increased sales and visibility. 
How Long Does It Take To Improve An Online Reputation?
Well, the time a business will take to improve an online reputation depends on the severity of the issue and the steps taken to address it. It may take weeks, months, or even longer to fully rebuild a positive online reputation. And also it depends on the efforts you'll show in improving the business's online reputation.