Future Of Digital Marketing In IT Sector
Digital marketing is an essential part of any business today. It has become an indispensable way to connect with customers and to keep them informed about your company and its products. The future of digital marketing in IT sector is very bright. Here are some reasons why:
1) More and more people are using mobile devices to access the internet. This means that your company needs to have a presence on mobile devices as well as desktop computers.
2) There are now many different ways for customers to interact with companies online. They can use social media, email, and web forms to communicate with you.
3) Digital marketing is now a global phenomenon. Companies all over the world are using it to connect with their customers.
4) Technology is constantly evolving, which means that digital marketing strategies must be updated regularly.
7 Necessary Keys Of Digital Marketing In IT Sector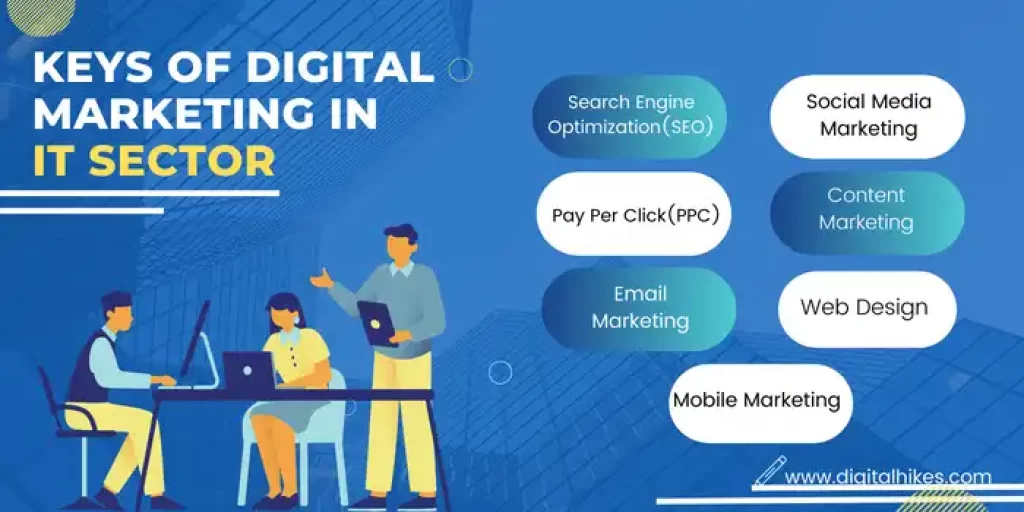 Through this statement, you'll meet with 7 necessary keys to the future of digital marketing in IT sector. How these keys can help to make you a digital marketer and make a strong identity in the IT sector. Check out the section below to know more advantages of digital marketing courses.
Search Engine Optimization:

SEO is the main and essential part of the digital marketing world, without SEO you can't do it for your business.

Pay Per Click Advertising ( PCC )

: To boost or get more queries on your business you have to run a complete pre-plan PPC.

Web Design

: The first impression is web structure in which users see your website layout about your work or business. Make the website flexible or more user-friendly.

Content Marketing

: It is also one essential key ingredient in which you can make your writing skills strong easily.

Social Media Marketing

: SMM is not another part of digital marketing just because today's generation is connected to social platforms.

Email Marketing

: You can generate leads through email marketing easily by sending business emails regarding your work. Build your subscribe community also for a long business relationship.

Marketing Analytics Ever

: Analyse the digital marketing industry every day and learn more about it to do new things that others never thought of before you.
Relation Of Digital Marketing With IT Industry
The IT industry has been facing a lot of challenges in the past few years. One of the most pressing issues has been the declining market share of traditional computing devices, such as desktops and laptops, in favor of mobile devices such as smartphones and tablets. Every career maker wants to get to know about a new field in which they entering for instance you want to make your future of digital marketing in IT sector to become IT employee.
Digital marketing is one of the key strategies that businesses can use to revive their fortunes and attract new customers. Digital marketing is all about using digital channels, such as email Marketing, social media, web content, and targeting ads, to reach and engage target audiences. 
Digital marketing is closely related to IT because both are about managing and delivering information to users. IT professionals who are skilled in digital marketing can help companies create effective online experiences for their customers.
Best Scope Of Digital Marketing In IT Industry
There are many factors in which you can see the best future of digital marketing in IT sector for instance:
SEO: Search Engine Marketing

SMO: Social Media Optimization

SMM: Social Media Marketing

PPC: Pay Per Click

VM: Visual Marketing & Paid Marketing

Data & Info Analiticies

Finest Content Marketing

Web Design

Graphic Design
Earning Power Of Digital Marketing In IT Industry
Digital marketing is an essential part of any business's marketing mix. But what is the best earning power for digital marketing professionals in the IT industry? According to a study by Forbes, the IT industry has the highest earning potential for digital marketers. 
The study looked at data from Payscale and found that digital marketers in IT can earn an average annual salary of $106,000. This is more than triple the average salary for all digital marketers, who earn an average of $37,500. 
In fact, digital marketing professionals in IT can earn as much as $183,000 if they are highly skilled and experienced. So if you are interested in finding a lucrative career in digital marketing, then you should consider careers in the IT industry.
With upper evidence, you got a hint of how much scope is in the future of digital marketing in IT sector. You can easily make your career in the digital marketing field by taking good guidance from professional trainers.
Is There Any Disadvantage To Doing Digital Marketing In The IT Industry?
There is no real disadvantage to digital marketing in the IT industry. With so many people using technology and computers every day, it is a good opportunity to get started in a career in digital marketing.
Many companies are looking for marketers who can create effective online campaigns and manage their websites. There are many opportunities to learn digital marketing skills in college or through specialty programs.
What Will Look For Digital Marketing In The Upcoming 5 Years?
Some of the most popular digital marketing channels include search engine optimization (SEO), content marketing, pay-per-click (PPC) advertising, social media marketing, and email marketing. As technology continues to evolve, so do the ways in which we use these channels. In the next 5 years, we can expect to see some major changes in digital marketing.
One key trend that is already taking shape is the move toward more personalization. This means that marketers will need to focus on creating custom content that speaks to the specific needs and interests of their target audience. Additionally, we will see a continued increase in the use of AI and machine learning to help create more personalized experiences for users.
There many digital marketing guides are available in the market to teach how to make their future of digital marketing in the IT sector in which you can gain very essential knowledge that you should get before entering the digital world.
Another big change on the horizon is the rise of voice search. With devices like Amazon Echo and Google Home becoming more popular, it's likely that more people will start using voice commands to search for information online. This means that marketers will need to optimize their content for voice search in order to be found by potential customers.
Finally, we can expect to see an increase in spending on digital marketing as companies look to reach their target audiences online. With more competition than ever before, businesses will need to invest in strategies that ensure they are visible in search results and stand out from the crowd.
Is Digital Marketing Becoming The Second IT Industry Sector?
Digital marketing is fast becoming the second most important sector in the IT industry. This is because businesses are realizing the importance of having a strong online presence in order to stay competitive. As a result, they are investing more money into digital marketing campaigns and strategies.
There are a number of reasons why digital marketing is growing so rapidly. Firstly, it is an extremely effective way to reach out to potential customers. With so many people now using the internet on a daily basis, businesses have access to a vast pool of potential customers that they can target with their marketing messages. Now, it's a great time to make the bright future of digital marketing in the IT sector to get your dream pay scale in a short time.
Secondly, digital marketing is very cost-effective. Traditional marketing methods such as television and radio advertising can be extremely expensive, whereas digital marketing can be done at a fraction of the cost. This makes it an attractive option for businesses of all sizes.
Finally, digital marketing is highly measurable. Unlike traditional forms of marketing, which can be difficult to track and quantify, digital marketing provides businesses with detailed data that they can use to assess the effectiveness of their campaigns. This allows them to make necessary adjustments in order to improve their ROI.
Overall, it is clear that digital marketing is fast becoming the second most important sector in the IT industry. With its many benefits and advantages, it is easy to see why this is the case.
Which Country Is The Highest IT Industry Sector?
The United States has the highest IT industry sector, followed by China, Japan, and Germany. The United States is home to many of the world's largest IT companies, including Apple, Microsoft, Amazon, and Google. China is home to many smaller IT companies that are rapidly growing. Japan and Germany have strong IT sectors as well.
Beginners have another option to start and make their career in digital marketing by becoming a freelancer on a specific freelance platform. Here you can take a closer look at how to become a freelance digital marketer field.
Thank You For Giving Your Precious Time
Now, you have understood how digital marketing comes in the IT industry or how you can take this advantage to make a career in the right vision. We hope that your mind has been set to make their future of digital marketing in IT sector and get more advantages in the digital world.