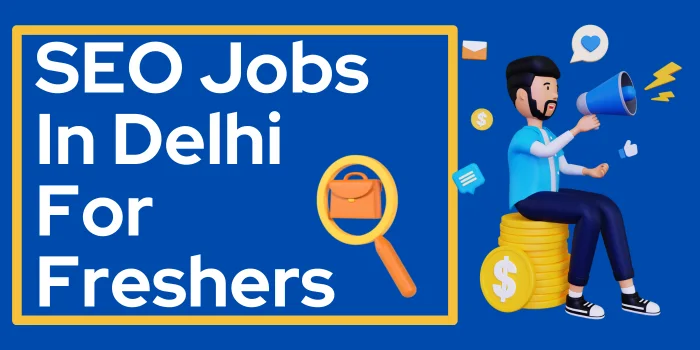 Are you from Rohini, Delhi, and looking for a job in the SEO field then Digital Hikes is giving you an excellent job opportunity. Digital Hikes is a well-known Digital Marketing Company, which is giving you a better opportunity for building your career in current SEO. Now no more wandering for Search Engine Optimization Jobs in Delhi and make a visit today.
Urgent Hiring:- SEO Executive & Content Writer Opening 5 to 10 Candidates
Search Engine Optimization Jobs in Delhi For Freshers
Currently, Digital Hikes is hiring SEO executive freshers who want to polish their search engine optimization skills by working on live projects. If you are looking for a job change or you want to do an internship in Search Engine Optimization then we have an opening for Search Engine Optimizer jobs in Delhi locations.
Job Requirements For SEO Jobs for Freshers
If you are applying for a job in Digital Hikes then the suitable candidate shall be accountable for all search engine optimization and SEO process. The candidate must know major and minor SEO techniques and must have good writing skills as well. Here are the following things that a candidate must-have for SEO Executive.
Theoretical knowledge of SEO & its concepts
Good command of English
Basic Computer Knowledge
Learning Attitude
Hardworking and Honest
Build Up Your future with SEO Career in Delhi
If you are a fresher and want to build a career in SEO then learning digital marketing is a great and beneficial option for you. Here, we will help you to enhance and brush up on your SEO skills. Learning SEO is one of the better and more beneficial career-building options. You will be going to have a bright future in the IT sector because SEO is one of the most demanded professions in IT firms.
Learn and Earn with Digital Hikes in Delhi
If you want a better platform for learning  SEO with earning then Digital Hikes is here for you. In this company, you are able to achieve the criteria of learning with earning. We will help you in being an expert in Search Engine Optimization (SEO). Digital Hike is a platform where you can learn SEO with an expert team and also earn money with it.
If a candidate is experienced then it is a plus point for the candidate as we will pay a stipend more than usual. The total salary of an applicant depends on the previous experience, technical knowledge, and interview of the candidate. The salary increment of the employee is based on the performance of the candidate and we also provide opportunities to get higher designations to the employees.
We have branches all over Delhi like Digital Marketing courses in Rohini | Pitampura | NSP | Noida | Gurgaon | and ShalimarBagh.
How you can find SEO Jobs in Rohini
There are several ways to find full-time and part-time Search Engine Optimization Jobs in Delhi for freshers. The first way to find some big SEO companies like us in your near location is by searching on Google "SEO jobs near me". Or you can find jobs in SEO on job portals like Indeed, naukari.com, or Internshala. Just Google "Search Engine Optimization jobs in Delhi indeed" and you will get numerous job opportunities. These two methods work everywhere in India. So don't worry whether you are located in Delhi, Noida, or Gurgaon, just type "SEO jobs in Gurgaon" or "SEO jobs Noida" as per location and you get a perfect result.
Is Prior Experience Necessary To Land An SEO Job?
No there is no need for prior experience to land in the SEO industry. Any newbie with just basic knowledge of search engine optimization can easily start their career in this field. So whether you are from commerce, science, or any non-technical background, you can still get search engine optimization jobs in Delhi NCR.
What Are The Typical Job Responsibilities of An SEO Specialist?
If you want to work as an SEO specialist then you must have to take responsibilities various tasks which are mentioned below:
Content optimization
keyword research
Backlink creation
Site auditing
Finding broken links
Site navigation
implementing schemas
Optimizing site speed
Mobile Optimization
Targeting local audience
Competitor analysis
Keep updated with the latest Google trends
Monitoring and updating
Collaboration with the content & marketing team
Advertisement management
Creating ad campaigns
Data management & reporting
How Much Does An Search Engine Optimization Job Pay In Delhi NCR?
If you are doing a search engine optimization Job in Delhi NCR then you can easily earn up to 80,000 and even more, depending on your working experience. Most companies love to have SEO work to get done on their site because of the high pricing involves in advertising. It is also one of the reasons why there are so many opportunities for SEO jobs in Delhi for freshers and experienced persons as well.
Are SEO Jobs Limited To Technical Professionals Only?
No, even if you are not from any technical background, you can still have a great career in the SEO industry. You may not believe but in 2023 every kind of entrepreneur wants to learn digital marketing because of its advantages and scope. So even if you have studied any non-technical subject or stream, you are still able to get a search engine optimization job in Delhi NCR.
What Are The Future Prospects For SEO Jobs In The Region?
If you have a proper knowledge of SEO concepts and Google algorithms then you can have a great future in this field. There are so many companies that love to hire a candidate with these kinds of characteristics to get their website rankings. You can get designated as an SEO executive, SEO specialist, SEO analyst, SEO manager, SEO expert, and so more. Each designation has a different salary depending on your expertise and experience of working in this industry.
How Can I Improve My SEO Skills?
You can improve your SEO skills by being updated with the latest SEO trends and Google algorithms. You can join some SEO-based social media groups and gain knowledge by participating in discussions and debates. Reading the latest E-books can also help you to gain SEO knowledge and information.