The page authority (PA) is developed by the Moz (marketing software system) which tells you clearly how your specific pages of a website performing on the search engine result. Every page of your websites have different page authority(PA) that why you will notice a particular page giving you better traffic as compared to another. The reason is so simple your particular page have linked with high-quality backlinks.
Now a question comes in mind on which factor page authority relies. So the answer is transparent your page authority of a website relies on link metrics just like your domain authority works.
Page authority foretells your ranking on SERP, not on the base of your domain level. Every digital marketer and SEO expert knows this strategy. they analyze own competitor a specific page authority which they want to surpass. After analyzing their authority they boost up their own page authority by implementing some SEO strategy.
High Authority Backlinks for your website
well infographic Images
Fresh and knowledgable content
Pass link juice from one page to another
Disavow Toxic backlinks
Heighten your domain Authority
Optimize your content
5 Simple Step To Increase Page Authority
High Authority Backlinks for your website
We already aware building a high authority back can enhance your domain and page authority. But when we want to increase the PA of the individual page then we have to focus only on it. If you create powerful backlinks for page then absolutely your page authority will give you outstanding results on SERP.
Here are some New Off-page SEO trends by which you can build a high authority backlinks.
Guest posting: It is one of the trustworthy to the building do follow backlinks for your website. Just You have to follow another website guidelines and then you capable of making backlinks.
Form link building
Article Submission
Directory submission
Commenting
Press Release
These are all off-page tactics which you already learn in your digital marketing training.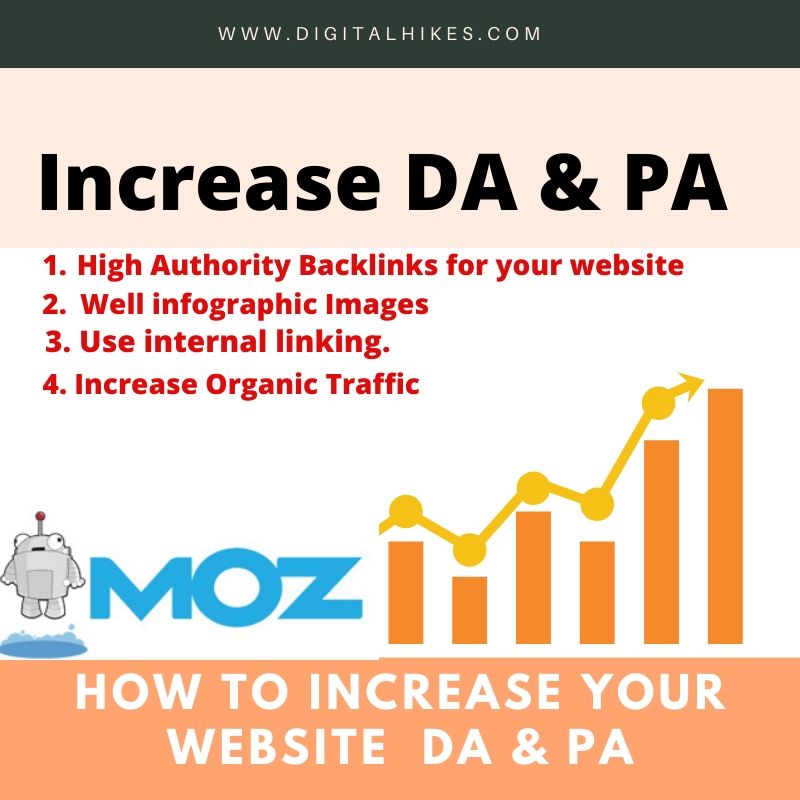 People are more preferred to read visual content as compared to the reading section. This is a fact if they like your infographics images then surely they share on social media and indirectly it will influence your page authority. So try to put accomplish summary in your images.
Pass link juice from one page to another
A page that has high page authority and you want to increase your PA to another page then you have to internal liking. let us take an example if your web page PA Is 50 which giving you high traffic and another page PA is 30, then connect them with internal linking that will give excellent results. Overall your 30 PA one day will be reached at 51.
The point before implementing internal linking
 Internal linking is a part of on-page SEO in which we connect links from one to another page with
relevant topics.
Links should be do-follow
Connect links with a relevant topic
The key phrase in which are you going to connect them should be helpful for visitors.
Use the Link Explorer offered by Moz.
Removing harmful links from our website is the best way to boost up Your PA. Google disavow tool will help you to remove irrelevant or adult website links.
You can find harmful backlinks from Google webmaster, Majestic SEO, SEOprofiler. These tools are easy for analyzing toxic backlinks. It can be a gambling or porn website.
Why it is required?
A great impact on domain authority if you Disavow Toxic backlinks from Your Website.
With increasing domain authority, your page authority also increases. Search Engine considers your website as spam if your websites have irrelevant links that indicate to your website.
Heighten your domain Authority
We already discussed if your DA increases then it is 100% sure your distinct PA of website Would also be increased. If you remove harmful links, perform well internal linking and last but not least building high authority links (Guest Posting, article submission, pdf submission). we heard some digital marketing experts perform anchor link text like digital marketing course in delhi and give a do-follow link to own particular page. It up to you links whether it is an anchor or not. Remember that the website which are you going backlinks for your website should be a high authority page as well as domain.
Final Verdict
Increasing page authority can be simplistic tasks if you follow the above point which explains to you how to increase page authority for your website. So if you want to rank your particular page on search engine results then first you should have to enhance your PA by implementing these five simple tips.