Page authority (PA) is a Moz-created algorithm that calculates page authority based on various link metrics. Which tells you clearly how your specific pages of a website perform on the search engine results page. Each page of your website has a different page authority (PA). The reason behind a specific page's better performance or traffic as compared to another is simply the specific page contains high-quality backlinks.
Page authority determines your ranking on the SERP, not on the basis of your domain level. This strategy is known to every digital marketer and SEO expert. You can boost your own page authority by implementing some SEO strategies.
The page authority of a website relies on link metrics just like your domain authority works. Further, we will explain some simple steps to increase page authority.
5 Easy Tips To Improve A Page Authority
High Authority Backlinks For Your Website
The first step to increase page authority is getting quality backlinks for your website. We are already aware that building high-authority backlinks can enhance your domain and page authority. But when we want to improve a page authority (PA) of an individual page, we have to focus only on it. Creating powerful backlinks for the page can significantly improve your page authority, which in turn can lead to outstanding results on the SERP.
Here are some off-page SEO techniques through which you can build high-authority backlinks.
Guest Posting: It is one of the most trustworthy methods of creating backlinks. You just have to follow another website's guidelines, and then you will be able to make backlinks.
Forum Link Building: Forum link building is an effective way to create relationships with others and earn backlinks to your website by sharing content on online discussion forums.
Article Submission: It is basically an off-page SEO tactic in which you can publish or submit your articles on a third party's website.
Directory Submission: It is also an off-page SEO tactic used to generate external links for your website. Submitting your website's URL to various online directories(Website) in order to earn backlinks is an easy process.
Commenting: It is one of the most followed SEO tactics, in which we post a comment on another's blog or article. Wherein we insert our website's or page's link in order to create a backlink.
Press Release: A press release is an SEO method to promote your business or company on another's website in order to earn quality backlinks.
So these are the different ways to get quality backlinks that will increase page authority.
Disavow Toxic Backlinks
Removing toxic or harmful links from your website is one of the best ways to improve a page authority. Google's Disavow tool can help you remove irrelevant or adult website links.
You can use tools such as Google Webmaster, Majestic SEO, and SEO Profiler to easily identify harmful backlinks on your website. These tools are easy to use for analysing toxic backlinks, such as those from irrelevant or adult websites. Search engines consider your website spam if it has irrelevant links that give the wrong impression to Google.
If you disavow all the toxic and harmful backlinks from your website, it can have a great impact on domain authority. If domain authority increases, then your page authority will automatically increase.
Heighten Your Domain Authority
Another tip to increase page authority is to increase your domain authority. We already discussed above that if the domain authority of a website increases, then there is a 100 percent chance of increasing the page authority of that page.
Also, if you remove the toxic or harmful backlinks, do proper internal linking, and build quality backlinks from high-authority websites (guest posting, article submission, PDF submission). Well, remember that the website from which you are going to get backlinks to a website should also be a higher authority domain.
Do Proper Internal Linking
By doing proper internal linking, you can increase page authority of a page in a short period of time. Internal linking is a part of on-page SEO in which we connect links from one page to another with relevant topics and keywords. If you want to improve the page authority of a web page that has lower page authority than another page on your website, you can link them internally to increase the former's authority.
Let's take an example, If the page authority of your web page on your website is around 50 or higher, which gives you high traffic, and the page authority of another page is only 30, so you should connect them with internal links, which will give you excellent results. Overall, the page with a PA of 30 may eventually reach a PA of 51.
There are some points you should keep in mind before implementing internal linking to increase page authority:
Links should be "do-follow."

Linking should be with a relevant topic or keyword.

The key phrase used to connect them should be relevant and helpful for visitors.

Make Use of the Link Explorer offered by Moz.


Good Quality Content
It is quite difficult to improve a page authority without a good content. Good quality content is essential to improve a page authority, and it should be informative and of high quality. It covers all the topics and justifies the title.
The content should fulfill the user's intent and should be unique, as copied content can negatively impact the page and topical authority. It can also impact the ranking on Google's SERP. It will drive more traffic to your web page, which will increase page authority of that page.
Latest 5 More Ways To Increase PA(Page Authority)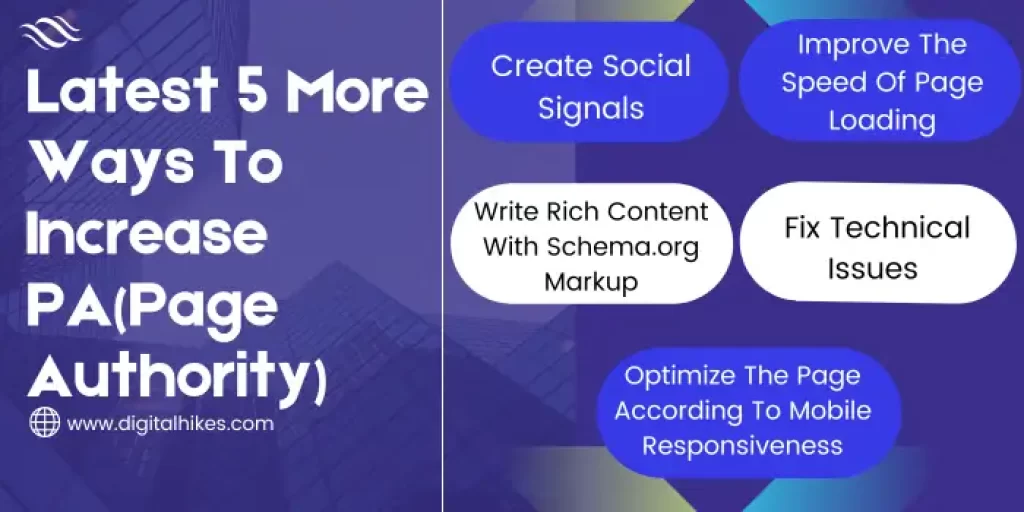 1). Create Social Signals
To improve a page authority of a particular page, you can use social platforms. You can collaborate with influencers and tell them to talk about it with their audience. Also, for getting lots of readers and traffic you have to be active on social media as well.
Also, at the end of your website or web page, you can encourage or motivate people to share your content with friends or others on social media. You can promote your business using social media and make lots of money.
Moreover, you can use the plugins like WP Social Button and Better Click To Tweet on your blogs or articles. This will help to reach a wider audience and increase page authority.
Besides it, you can use social media platforms like Facebook and Twitter, wherein you can post and encourage your users and followers to retweet and share them.
2). Improve The Speed Of Page Loading
The next step to increase page authority is to improve the speed of page loading. Poor page speed can cause bad rankings and a poor user experience. It can badly affect the page's authority. But there are a lot of ways in which you can speed up the page authority of a particular page of your website.
The very first method is to compress your images before publishing the post. If there are animations and banners, then remove them immediately, as they can slow down the speed of a page's loading.
In a simple way, just use a simple and easy theme and always avoid heavy plugins, as they can affect the speed of a page's loading. Moreover, you can use Google's AMP to improve the speed of a page's loading on a mobile device. Also, you can make use of the Google Insight tool to find out the issue that is slowing down your speed of page loading.
3). Write Rich Content With Schema.org Markup
Another step to increase page authority of a particular page is to write rich content with schema.org markup (structured data). As Schema markup helps Google to understand what your article or content is about, and then it can rank the page accordingly, which can help to improve a page authority.
Rich and informative content grabs the user's attention. Also, good content has the power to keep a user on the website for a long time. As more users visit your web page, your page authority will increase automatically. To add the schema markup to your page, you can use the free Google markup helper tool and after that, you will be able to select the elements you want to mark up on a page.
4). Fix Technical Issues
Sometimes technical issues are the reason for the low authority of a page and can also affect the ranking. So it is important to fix all the technical errors that you face on the page so that you can increase page authority of that page. Such as broken links (external or internal) and missing URLs (through which images are not shown properly). So finding broken links to fix them and verifying the missing URLs to improve a page authority.
Besides that, you have to know that a clean site URL structure is a must for page authority, and shortening the URL is easy to remember for everyone. Also, you have to check that your meta title and meta description come within the fixed limits of characters and pixels. The title should be 50–60 characters, or the description should be 150–160 characters.
5). Optimize The Page According To Mobile Responsiveness
To increase page authority of a particular page, there are lots of factors that matter, and mobile responsiveness is one of them. If your page is properly optimized for desktops or Windows but not for mobile, then it can definitely affect the page authority of that page. So always make sure that you are using a theme that supports mobile responsiveness.
What Are The Benefits Of Increasing Page Authority?
Improving a website's visibility on the SERP, driving more traffic, and building trustworthiness are the major benefits of increasing page authority. 
How Long Does It Take To See Results From Increasing Page Authority?
It may take some weeks or months to observe the effects of increasing page authority. Although by applying all these simple strategies, you can gradually rank a website or gain traffic.
What Is The Role Of Backlinks In Increasing Page Authority?
Backlinks from high-authority websites can greatly boost up the page authority of a page. It will give Google an indication that the content is valuable or relevant, which can definitely improve the ranking on the SERP and drive more traffic.
Conclusion
Increasing page authority can be a simple task if you follow the above point, which explains how to increase page authority of your web pages. Also, if you focus on only these two things: first, writing better and quality content, and second, building more backlinks, your page authority will definitely increase.
So if you want a particular page of your website to rank high in Google search engine, then first you should enhance your PA by implementing these ten simple tips. And the next and most important thing is to keep patience, as the page authority will not increase in a day, so keep working hard and optimizing your pages from time to time with the latest information.