In today's world, social media has become an essential tool for businesses to promote their products and services in this modern world. Since everyone uses social media today, it has become a powerful tool for promoting your brand and reaching out to your audience.
Simply having a social media account is not enough for a business, it requires strategies and efforts to use social media effectively to promote your business. So, in this article, we will discuss how to use social media to promote business by choosing the right platforms, defining your target audience, creating a social media strategy, building a strong brand presence, creating engaging content, and using paid advertisement.
How Do I Promote My Business On Social Media?
To become a brand, you need to promote your products/services on social media. Just creating an account on social media is not enough. If you really want to use social media to promote business, you need the right plan with strategies. Here are the steps you can follow to create a successful social media strategy for your business:
Choosing The Right Social Media Platform For Your Business
One of the first steps to using social media to promote business is choosing the right platform for your business. Not all social media platforms are created equal and not all will be a good fit for your business. Different platforms have different features, and advertising options also different people too.
It is very important to choose the right platform that aligns with your business goals and target. Therefore, you should research each platform and choose the one that suits your goals.
For example, If you're targeting the younger generation, you might consider popular platforms like Instagram. Or you may find LinkedIn to be the best platform if you are targeting a professional audience. The Facebook platform is a good choice if you want to reach a broad audience. And Twitter is a fast-paced platform that's great for businesses looking to share news and updates in real-time.
Defining Your Target Audience For Social Media
Defining your target audience to use social media to promote business is a crucial part of success. Your target audience should be a group of people who are most likely to be interested in your products or services.
Understanding your audience helps you to create content that engages them, which can better your conversion rates. You can follow some factors to define your target audience like their age, gender, location, interest, income, etc.
You can use some social media analytics tools to know about these factors of your audience.
Creating A Social Media Strategy For Your Business
After choosing the right platforms and defining your target audience, the next step is to create a social media strategy. In order to achieve your business goals, you need to develop a social media strategy. Your strategy should outline your goals, target audience, content strategy, and posting schedule.
While creating a strategy your goals should be clear so that you can use social media to promote business wisely. Your goals may include increasing brand awareness, driving traffic to your website, or generating leads. Once, your goals will be clear, you can create a content plan that will engage your targeted audience and will support your objectives.
Building A Strong Brand Presence On Social Media
A strong brand presence on social media is very important as it helps you to stand out and introduce you to a loyal following. You should create content that reflects your brand's personality and values. You can follow some tips for building a strong presence to use social media to promote business: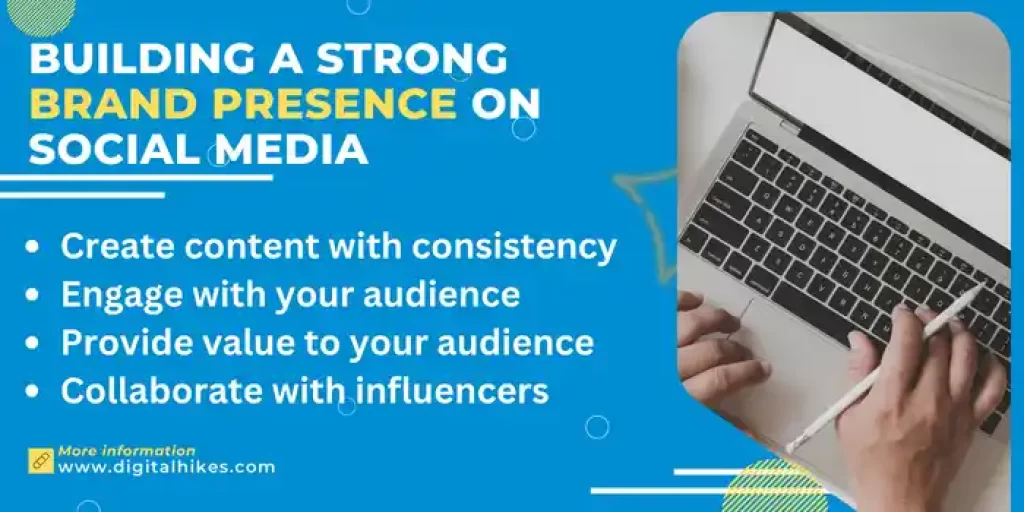 Create content with consistency by using the same profile and brand colors on all posts.
Engage with your audience by responding to comments and messages in a timely and friendly manner.
Provide value to your audience by sharing useful tips, industry insights, and entertaining content.
Collaborate with influencers for expanding your reach and build a stronger brand presence, take advantage of these influencer marketing trends.
Creating Engaging Content For Social Media
Content is the only thing that can truly engage your targeted audience. Your content will help you in building a strong brand presence. Your content should be informative, entertaining, and relevant according to your audience's interest. Post images and videos to make your content more engaging.
You can use tools like Canva or Adobe Spark to create videos. For content, it is very important to focus on quality over quantity. You should share industry news and insights, industry positions, and a glimpse of your company's culture and posts should be on a daily basis.
By creating engaging content it will be easy to use social media to promote business effectively.
Using Paid Advertising On Social Media To Promote Your Business
Using paid advertisements on social media marketing can be a highly effective way to use social media to promote your business and for reaching a larger audience. Platforms like Twitter, LinkedIn, Facebook, and Instagram offer a variety of advertising options, including sponsored posts, display ads, and video ads.
In a paid advertising campaign, it is very important to define your target audience and set a budget for your campaign. Social media advertising allows you to target your audience based on interests, behaviors, and more. For advertising, you should set clear goals and define your target audience, choose the right ad format, and use eye-catching visuals. Also, you should apply digital marketing strategies on paid advertising to use social media to promote business.
How Can I Advertise My Business On Social Media For Free?
You can advertise your business on social media for free by following all the steps mentioned above like, choosing the right platform then defining your target audience, creating the right strategy, building a strong presence, and creating engaging content to tailor your audience.
If you want to use social media to promote business for free you should work hard on strategies, creating more engaging content, and focusing on building good relationships with your audience. Also, you can analyze small businesses' accounts on social media platforms that are working without any paid advertising.
Should I Focus On One Social Media Platform Or Multiple?
You should focus on the social media platforms where your target audience is most active. However, it's also important to have a good & active presence on multiple platforms to increase your reach and visibility among users.
Should I Respond To Negative Comments Or Reviews?
Yes, it's very important to respond to negative comments and reviews in a timely and professional manner. This shows that you care about your audience and customers not only about making profits.
How Can I Measure The Success Of My Social Media Strategy?
It's easy to measure your success on social media by tracking metrics like traffic on your website, engagement, and conversions. Also, you can use analytics tools like Buffer, Hootsuite, etc. to monitor your performance easily and create strategies accordingly that will help you to use social media to promote business in an effective way.