Best SMO Course In Delhi To Learn Social Media Optimization
Get the best SMO course in Delhi where you will be given complete information about SMO. In today's time, we all spend our time on social media. But many people do not know that with the help of social media, we can earn a lot of money too.
There are many institutes providing SMO training in Delhi but Digital Hikes is the only institute that gives you theory as well as practical knowledge to make money through SMO.
What Is SMO?
SMO (Social Media Optimization) With the help of SMO, we give information related to our brand to the people. In the same, we will give you all the information about Facebook, Instagram, and LinkedIn and will tell you how to use all these platforms for your brand awareness.
We do not just give you an advanced SMO course in Delhi, we provide a complete digital marketing course, in which you can learn SEO, SMO, Email Marketing, Pay-per-Click, Content Marketing, Mobile Marketing, Marketing Analytics, and Affiliate Marketing too. If you want to do complete digital marketing then Digital Hikes Institute is best for you.
The Importance Of SMO In Today's Digital World
Social media has become an important part of our life. Today people are active on social media not only in India but all over the world. Many people do not know that we can earn well with the help of social media.
But there are so many opportunities that you can grab to earn money with the help of SMO and social media. Both digital marketing and affiliate marketing, need the right SMO so let's take a look at its importance in this today's era.
Importance of SMO In Today's Digital World: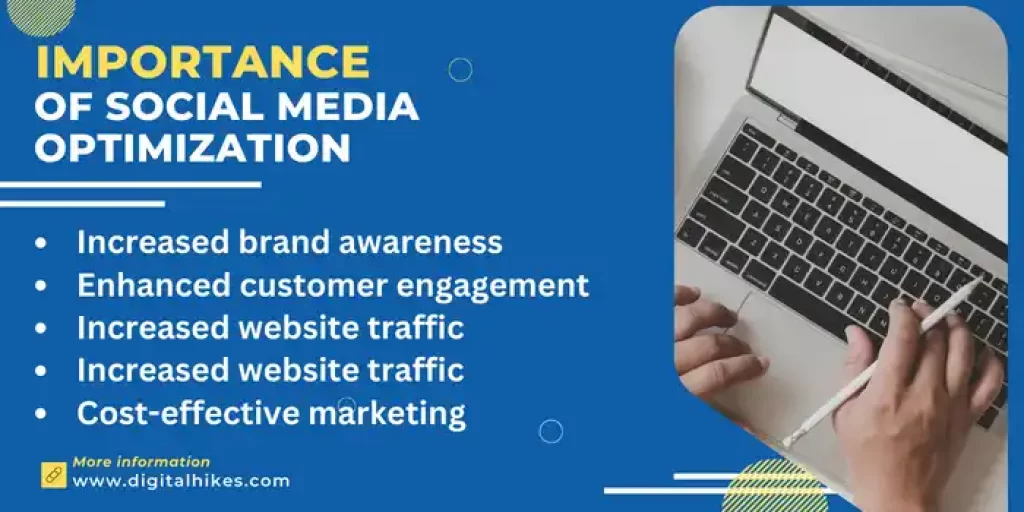 Increased brand awareness: With the help of social media, we can tell about our brand because, in today's time, everyone spent time on social media platforms like Facebook, Instagram, and LinkedIn.
Enhanced customer engagement: We can build a strong relationship with our customers for our own business after doing an SMO course in Delhi. We can get their feedback and solve their problems on social media.
Increased website traffic: With the help of social media, we can also increase the traffic on our website. Create your website and then share it on social media by providing details of your new products and services.
Cost-effective marketing: Earlier there used to be traditional marketing which used to cost more and promotion was not much. But today, With the help of social media marketing, you can reach more audiences with less investment and effort.
What Are The Main Differences Between SMO And SEO?
| SMO (Social Media Optimization) | SEO (Search Engine Optimization) |
| --- | --- |
| SMO focuses only on social media like Instagram, Facebook, LinkedIn, and Twitter. | SEO focuses on search engines like Google, Bing, and Yahoo. |
| SMO's Goal is to create brand awareness, engagement, and reach on Instagram and other social media platforms. | SEO's goal is to increase website traffic, website visibility, and ranking organically on the (SERP) search engine result page. |
| SMO metrics include likes, comments, shares, reach, and followers. | SEO metrics include website rankings, keyword rankings, and backlinks. |
| SMO techniques include social media setup and making creative posts. | SEO techniques include keyword research, content creation, and on-page optimization. |
3 Best SMO Institutes In Delhi To Learn Social Media Optimization?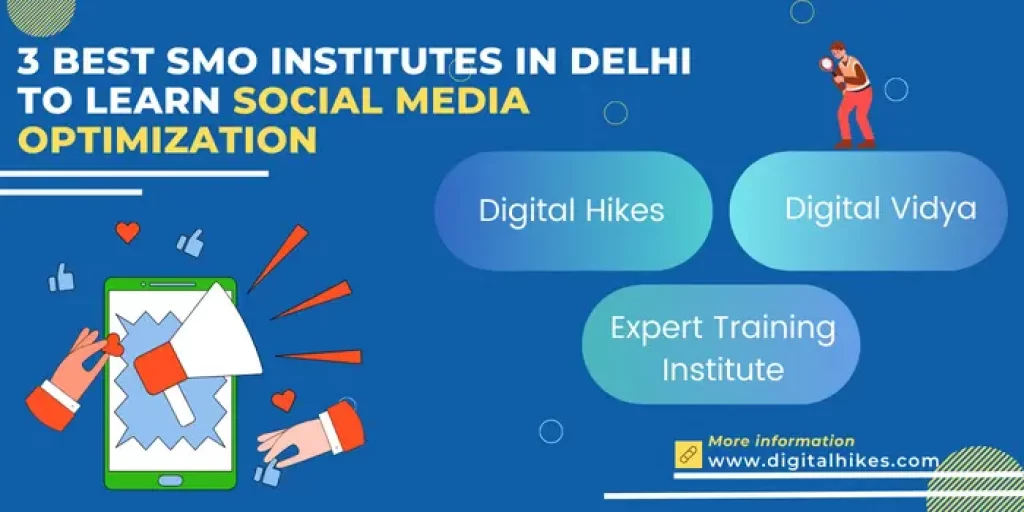 Here are the 3 Best institutes in Delhi that will help you select the best SMO course in Delhi:
Digital Hikes (Top SMO Training Institute In Delhi)
Digital Hikes is one of the best places to get SMO training in Delhi, which will give you complete knowledge of social media and digital marketing as well. Digital Hikes have been in this field and giving our students SMO workshops in Delhi for the last 9 years. A total of 4400+ students have passed out from digital hikes and were hired by top companies with the help of a 100% placement guarantee.
Digital Hikes Ranks 1st in the Delhi zone for Digital Marketing Training in Rohini, Because Digital Hikes makes all the students do practical work along with theory. Digital hikes also provide the best placement and SMO internship in Delhi after the completion of the SMO course. That's why digital hikes is the best Social media marketing course in Delhi.
Digital Vidya
Digital Vaidya provides one of the best SMO courses in Delhi that provides professional and practical training in the digital marketing industry. Digital Vaidya has been giving training in digital marketing for the last 4 years and has trained more than 2000+ students.
Expert Training Institute
Expert Training Institute is also a Digital Marketing Institute that provides training in Digital Marketing as well as SMO. This institute has been giving digital marketing training to children for the last 3 years. 1500+ students have taken training from this institute.
Course Details, Duration, And Fees
| | |
| --- | --- |
| Duration | 3 to 4 months |
| SMO course Fee | SMO Course Fee |
Conclusion
Social media marketing is going to expand rapidly in the coming times. This is the best time to join the SMO course Delhi at Digital Hikes. We will tell you how social media get optimized, how to increase social media followers, and how to get more likes and shares on social media platforms.
Digital hikes also provide the best digital marketing course and SMO certification in Delhi which you can present in different companies to prove your qualification while internship & jobs.
Is SMO Part Of Digital Marketing?
Yes, Social media optimization (SMO) is a part of digital marketing that you should learn to get more likes & reach on social media platforms.
Which Is The Best SMO Institute In Delhi?
Digital Hikes is the best SMO institute in Delhi where you can learn SMO & Digital Marketing course as well at a very affordable price with practical work.
Can I Pursue An SMO course online instead of In-Person In Delhi?
Yes, you can pursue top SMO training in Delhi NCR with online and in-person classes as well.
Will I Receive A Certification Upon Completing My SMO Course?
Yes, you will receive a certification stating that you have completed a social media optimization course from Digital Hikes – A digital marketing institute.
How Can I Apply The Knowledge Gained From The SMO Course In My Career/Business?
The knowledge you will get from the course will help you to gain followers on social media platforms and gain followers as well.
How Long Does It Typically Take To Complete An SMO Course?
It can take up to 25-30 days to complete your SMO training in Delhi with complete certification and knowledge.