[fusion_builder_container hundred_percent="no" equal_height_columns="no" menu_anchor="" hide_on_mobile="small-visibility,medium-visibility,large-visibility" class="" id="" background_color="" background_image="" background_position="center center" background_repeat="no-repeat" fade="no" background_parallax="none" parallax_speed="0.3″ video_mp4="" video_webm="" video_ogv="" video_url="" video_aspect_ratio="16:9″ video_loop="yes" video_mute="yes" overlay_color="" video_preview_image="" border_size="" border_color="" border_style="solid" padding_top="" padding_bottom="" padding_left="" padding_right=""][fusion_builder_row][fusion_builder_column type="1_1″ type="1_1″ background_position="left top" background_color="" border_size="" border_color="" border_style="solid" border_position="all" spacing="yes" background_image="" background_repeat="no-repeat" padding_top="" padding_right="" padding_bottom="" padding_left="" margin_top="0px" margin_bottom="0px" class="" id="" animation_type="" animation_speed="0.3″ animation_direction="left" hide_on_mobile="small-visibility,medium-visibility,large-visibility" center_content="no" last="true" min_height="" hover_type="none" link="" first="true"][fusion_text]
Instagram and Facebook both are the top contenders in the list of top social media sites. Where Facebook is on the top positions with more than 2 billion active users. Instagram is competing with WeChat for the fourth position with more than 1 billion users. Instagram took a big jump in a few years and gained so much popularity in comparison to any other social media site. That's how Instagram vs Facebook comparison starts. 
Different kinds of people share their opinion on which one is better. The opinion is basically based on visual, ease of use and benefits.
Let's starts from the root and discuss some core similarity and difference between Instagram and Facebook. This will help you to understand which is more beneficial for you.
About History: Facebook VS Instagram
What is Facebook?
Facebook is a social networking site that is started by Mark Zuckerberg in 2004. Mark was studying at Harvard University when they launched this social media site. Now it has more than 2 billion active users who use it for different purposes like:
Sending Message to each other
Posting Updates(Images, Text, Videos)
Making New Friends
To Get New Ideas
Online Business, etc.
Facebook is a place where you can connect with people, share your opinion and read information content at the same time. There's no need to use a different app for all this work and that's what makes Facebook special.
What is Instagram?
Instagram is a social media platform where a person can edit and share images, post short videos and communicate with friends.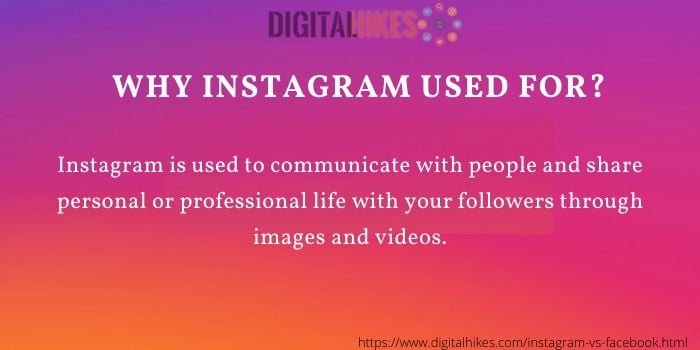 Same as facebook, Instagram also a free social media application. It is started in San Francisco, California by Kevin Systtrom and Mike Krieger. Instagram word is an amalgam of two words "Instant Camera" and "Telegram". In 2012, Mark Zuckerberg bought this social media platform by paying $1 Billion. 
Instagram is used by people for some different purpose which is as follow:
Edit and Share Images
Connect with People
Influence Marketing
Online Business, etc.
How Instagram and Facebook are similar to each other?
Instagram and Facebook both have a large number of users. Because of social media nature, they have some common attributes that look similar. 
Similarities Between Instagram and Facebook
Follow People:

  You can add or follow your family members, friends and also unknown people on Instagram as well as on Facebook. Both provide the features to connect with people. Also, you can follow your favorite celebrity too on Facebook and Instagram. 

Block People:

Sometimes don't want to see or to be in contact with particular people. For this purpose, there is a block option in social media. You can block stalkers or any particular person so they cannot see your activity anymore. Block feature is available on Instagram and Facebook both.

online Store:

Online business becomes popular in the past few decades. A large number of users make social media sites perfect for online business. You can easily create an online store on Instagram or Facebook and earn easy money

Post & Tag:

One of the main reasons behind the popularity of social media sites is, they allow a user to share their activity. You can share images or videos and tag them with your favorite people. Posting and Tag feature is also available on Facebook and Insta.

Like, Comment & Share:

There's no fun without interacting with other people over social media. That's why Facebook and Instagram both support this amazing feature. With Like, Comment & Share feature, you can keep connected with your loved ones. You can like their images and comment on them also share it too other people.
What are the differences between Instagram and Facebook?
Where Instagram and Facebook have some similarities there have some differences too. Here are some differences that make them different from each other.
No Gaming Feature:

Gaming is one of the best activities to enjoy the time with family or friends. Facebook provides thousands of games like Candy Crush, Dragon City, Criminal Case, Farm Ville, and many others to play. All of them are free to use. 
But there's no gaming feature on Instagram. For entertainment, Instagram has IGTV where you can enjoy tons of entertaining videos every day. 
Can't Share Thoughts:

Facebook allows a user to post pics/videos, share their thoughts with texts, and chatting function. But on Instagram, you can only post share pics/videos and chat with people. There is no feature of sharing thoughts.
Less Functionality on PC:

Facebook provides the same features on a smartphone and PC. But Instagram doesn't give the same function in PC that you are using on a smartphone. You can't post anything on Instagram while using it on PC. Only you can see the post of the people whom you are following.

No Post Without Pic:

Instagram doesn't allow you to share a post that contains text only. You must have to upload an image or video for that.
On the other hand, You can easily share an unlimited post without uploading a single image.
Limitation on Post:

Instagram allows a user to post 10 images at a single time. You can post more than 10 images at once. For that, you have to continue the process. 
On Facebook, you can upload at least 30 images at once. Which is 300% more amount than Instagram.
Post Nature:

As Facebook provides multiple pic upload features, many people use it in the wrong way. Thousand of Images on Facebook are not polished and speaks more like a brand rather than the individual.
In compared to Facebook, Images on Instagram are more individuals.
For example, you went to a coffee shop with your friends, took a selfie and uploaded it on Instagram. That's how posting is more relax on Instagram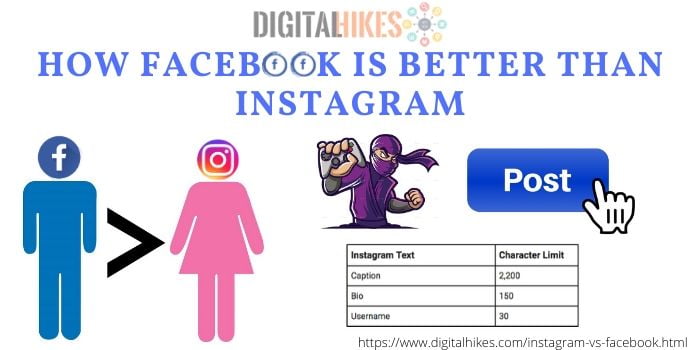 Which is safer, Facebook or Instagram?
Being the parent company of Instagram, Facebook shares the same term of privacy that is used in itself. But Facebook has some more privacy features. For example, you can customize your every post as per the individual. 
Facebook and Instagram both store users data and allow third-party authorization access. By allowing these feature third-party apps can access your some activity. But you can easily remove that access anytime in a few steps. 
Here are some tips to keep your account safe on FaceBook and Instagram:
Make your account public to private for better security. It protects your account from being stalk and identity theft.

Never ever interact with those accounts who looks suspicious.

Create a strong possible password that nobody can guess. Stop using your birth year, mobile number or your ex-name in the password. Use upper lower case with numbers to make it complex and hard to guess.

Sharing your location can put you in danger sometimes. It's better not to share your location with everyone.

Just like the location, you should not share your every little activity with everyone. This might could bring you in trouble.

Choose a private network on the place of Public network. Hackers and other cyber threats are more active on the public network like Coffee shop wifi.
What to post on Instagram vs Facebook?
What you are posting and where that's matters a lot. Where a post of yours works great on a social media platform like Facebook. That doesn't mean it gives the same result on Instagram. You have to use the right post in the right place to get more effective results. Here are some different strategies to make your post more successful.
1. Links
Facebook allows a user to post the link on each post. With this feature, you can easily convert your facebook followers into your website traffic. 
Unlike Facebook, Instagram doesn't give you the feature of links in the post section. Still, if you want to post a link urgently so you can use the profile section. Keep in mind you can add a link at once. So pick your most important link to place there.
2. Text and Captions
Facebook's long Text support feature is very beneficial for those people who write. A writer or influencer can easily share his/her thought or can influence its followers with the text. Videos and Images require time so you can use text to save your time.
Instagram doesn't provide long text features but still, it has the caption & hashtag feature. You can write a short and attractive caption and use a maximum of 30 hashtags under the caption. Also, you can use 20 hashtags in the comment section also.
3. Images
Upload many images at once is one of the biggest advantages of Facebook. But many users don't know how to take the benefits of this feature. They upload irrelevant images too with main images that sometimes sound more promotional. Most of the images on your post must be interesting for your followers.
Instagram has 10 images upload features at home but because of the great user-friendly interface advantage are higher here. Just post those images that co-relate with each other. You will surely get more reach and benefit from images. 
Which is better for business, Instagram vs Facebook?
Social Media sites can be your Ace of Spades for your business if you know how to use it. But the tricky situation comes when you have to choose one among both. Here are some points which help you to choose the best social media platform for your business.
Active Users
Facebook has more than 2.38 Billion active users where Instagram has around 1 Billion. There is a huge difference in active users between Facebook and Instagram.
For a business person, a higher audience means a higher possibility of a sale. So, if you are looking for a quantity than Facebook is best for you. So in quantity, facebook is the winner of Instagram vs Facebook. 
Marketer's Favorite
89% of Marketers use Facebook for business. Reason can differ according to an organization like Facebook has started before Instagram, have more feature, etc. On the other hand, 65% of current users use Instagram which is less than Facebook.
Customer Type
Most of the people who use Facebook are mature and belong to the 25-60 age group. That's means a higher amount of people are self-independent. But on Instagram, most of the users belong to 13- 30 age-group. It clearly show's that why marketer chooses Facebook over Instagram.
Engagement
When it comes to user engagement Instagram is easy compared to Facebook. Where a post on Facebook gets 20-30 likes on facebook, the same post on Instagram can achieve more than a hundred likes easily. So, if you want to engage more customer than you must select Instagram over Facebook.
Attraction
The biggest advantage of using Instagram is instant attraction. When you open Instagram you see post on the first interaction. Where on Facebook, there are different stuff like stories, post feature and then other things. Also, Instagram visuals make images more attractive and engaging rather than Facebook.
Which is better, Facebook vs Instagram?
Choosing one platform between Instagram and Facebook is like choosing one team from Team Cap and Team Iron Man. Both are strong and best social media sites in their own way. If you give more value to visuals and interested in images, videos, and presentation than Instagram is the best for you. If you like to write and more flexible with text and images both then you can influence people on Facebook easily.
Facebook gives a huge number of features to the users which makes it a little bit complicated. Many people get confused after looking at all features and it becomes hard to select the useful one. Where Instagram has limited features which makes it more user-friendly. People can only post images/videos, watch IGTV and chat with people.
Facebook gives you the feature to make an album of your favorite time like a concert or event. You can add images to the particular album and tag your friends on them. Instagram gives a user to live feature in which you can broadcast video to your followers. Your followers can also enjoy the same moment just like you.
Both social media platforms are free, good and easy to use. Using both platforms at the same time creates a higher possibility of success. So, I would suggest you use Facebook and Instagram together.
Do you think that Instagram will take over Facebook in the upcoming decade and become the winner of Instagram vs Facebook war?
[/fusion_text][/fusion_builder_column][/fusion_builder_row][/fusion_builder_container][fusion_builder_container hundred_percent="no" hundred_percent_height="no" hundred_percent_height_scroll="no" hundred_percent_height_center_content="yes" equal_height_columns="no" menu_anchor="" hide_on_mobile="small-visibility,medium-visibility,large-visibility" status="published" publish_date="" class="" id="" link_color="" link_hover_color="" border_size="" border_color="" border_style="solid" margin_top="" margin_bottom="" padding_top="" padding_right="" padding_bottom="" padding_left="" gradient_start_color="" gradient_end_color="" gradient_start_position="0″ gradient_end_position="100″ gradient_type="linear" radial_direction="center center" linear_angle="180″ background_color="" background_image="" background_position="center center" background_repeat="no-repeat" fade="no" background_parallax="none" enable_mobile="no" parallax_speed="0.3″ background_blend_mode="none" video_mp4="" video_webm="" video_ogv="" video_url="" video_aspect_ratio="16:9″ video_loop="yes" video_mute="yes" video_preview_image="" filter_hue="0″ filter_saturation="100″ filter_brightness="100″ filter_contrast="100″ filter_invert="0″ filter_sepia="0″ filter_opacity="100″ filter_blur="0″ filter_hue_hover="0″ filter_saturation_hover="100″ filter_brightness_hover="100″ filter_contrast_hover="100″ filter_invert_hover="0″ filter_sepia_hover="0″ filter_opacity_hover="100″ filter_blur_hover="0″][fusion_builder_row][fusion_builder_column type="1_2″ type="1_2″ spacing="" center_content="no" link="" target="_self" min_height="" hide_on_mobile="small-visibility,medium-visibility,large-visibility" class="" id="" hover_type="none" border_size="0″ border_color="" border_style="solid" border_position="all" box_shadow="no" box_shadow_blur="0″ box_shadow_spread="0″ box_shadow_color="" box_shadow_style="" background_type="single" gradient_start_position="0″ gradient_end_position="100″ gradient_type="linear" radial_direction="center center" linear_angle="180″ background_color="" background_image="" background_image_id="" background_position="left top" background_repeat="no-repeat" background_blend_mode="none" animation_type="" animation_direction="left" animation_speed="0.3″ animation_offset="" filter_type="regular" filter_hue="0″ filter_saturation="100″ filter_brightness="100″ filter_contrast="100″ filter_invert="0″ filter_sepia="0″ filter_opacity="100″ filter_blur="0″ filter_hue_hover="0″ filter_saturation_hover="100″ filter_brightness_hover="100″ filter_contrast_hover="100″ filter_invert_hover="0″ filter_sepia_hover="0″ filter_opacity_hover="100″ filter_blur_hover="0″ first="true" last="false"][fusion_checklist hide_on_mobile="small-visibility,medium-visibility,large-visibility"][fusion_li_item icon="fa-search fas"]
Learn Basics of Digital Marketing
[/fusion_li_item][fusion_li_item icon="fa-share-alt fas"]
Special Emphasis on Social Media
[/fusion_li_item][fusion_li_item icon="fa-project-diagram fas"]Live Project Training[/fusion_li_item][/fusion_checklist][/fusion_builder_column][fusion_builder_column type="1_2″ type="1_2″ spacing="" center_content="no" link="" target="_self" min_height="" hide_on_mobile="small-visibility,medium-visibility,large-visibility" class="" id="" hover_type="none" border_size="0″ border_color="" border_style="solid" border_position="all" box_shadow="no" box_shadow_blur="0″ box_shadow_spread="0″ box_shadow_color="" box_shadow_style="" background_type="single" gradient_start_position="0″ gradient_end_position="100″ gradient_type="linear" radial_direction="center center" linear_angle="180″ background_color="" background_image="" background_image_id="" background_position="left top" background_repeat="no-repeat" background_blend_mode="none" animation_type="" animation_direction="left" animation_speed="0.3″ animation_offset="" filter_type="regular" filter_hue="0″ filter_saturation="100″ filter_brightness="100″ filter_contrast="100″ filter_invert="0″ filter_sepia="0″ filter_opacity="100″ filter_blur="0″ filter_hue_hover="0″ filter_saturation_hover="100″ filter_brightness_hover="100″ filter_contrast_hover="100″ filter_invert_hover="0″ filter_sepia_hover="0″ filter_opacity_hover="100″ filter_blur_hover="0″ first="false" last="true"][fusion_button link="https://www.digitalhikes.com/" text_transform="" title="" target="_self" link_attributes="" alignment="center" modal="" color="default" button_gradient_top_color="" button_gradient_bottom_color="" button_gradient_top_color_hover="" button_gradient_bottom_color_hover="" accent_color="" accent_hover_color="" type="" bevel_color="" border_width="" border_radius="" border_color="" border_hover_color="" size="" stretch="default" icon="" icon_position="left" icon_divider="no" animation_type="" animation_direction="left" animation_speed="0.3″ animation_offset="" hide_on_mobile="small-visibility,medium-visibility,large-visibility" class="" id=""]Digital Marketing Course in delhi by digital hikes [/fusion_button][/fusion_builder_column][/fusion_builder_row][/fusion_builder_container]