Marketing trends in the sector have shifted dramatically in recent years. People's growing interest in social media has ushered in a new era of social media marketing.
There are many social media platforms available today, including Facebook, Instagram, LinkedIn, Twitter, etc. To use these platforms effectively, you need to understand the fundamentals of social media marketing.
Businesses these days are using these social media platforms to market their products and services. As a result, there are new jobs in the digital marketing field, and now is the best time to get into this field and start a new career. Learn basic social media marketing to get an upper hand in this competitive world.
What Is Basic Social Media Marketing?
In Social Media marketing you can promote your brand, products, and services through social media platforms like LinkedIn, Twitter, Facebook, and Instagram.
Every month, the typical person switches between seven distinct social networks. and because of this, using social media channels to promote yourself or your business is a smart idea.
The first stage in basic social media marketing is determining your target audience and the social media channels on which they are most active. Then, make a social media content calendar with a mix of promotional and educational content, such as blog posts, images, videos, and infographics.
Additionally, you can track engagement metrics like likes, shares, comments, and click-through rates using social media analytics tools and modify your strategy as necessary.
Basic Social Media marketing gives you the basic knowledge on how to promote your business and services. It can be a great opportunity for you to start a new career in the digital marketing field.
Why Do You Need Social Media Marketing?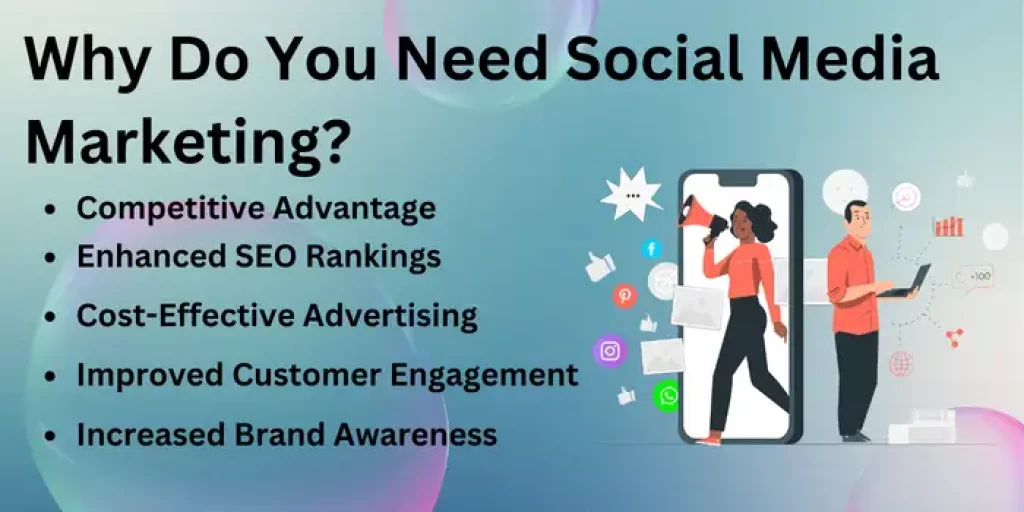 Social media marketing has become an essential factor for a business to grow, if you're not interacting with your audience socially you're lagging. And if you aren't using this valuable source, you're missing out on a fantastic marketing opportunity because it makes it simple to spread the word about your mission and product.
Social media marketing influences business growth in the following ways:-
Creates Brand Awareness
These days, social media platforms are best for brand awareness of your business or product. Make sure you use the right platform for your business and product to target potential customers.
Helps In Building A Bond With Customers
Social media can be a powerful tool for building strong relationships with customers. By creating and sharing engaging content on social media platforms you can promote your business, businesses can connect with their audience on a more personal level, listen to their feedback, and respond to their needs.
Generating Leads Or Conversions
You can use social media's power to generate high-quality leads or conversions for your business. Create a social media strategy that allows you to connect with your audience and generate leads by getting your message in front of the right people at the right time.
Keeping Track Of Competitors
Keeping track of your competitors on social media can help you stay informed about their marketing strategies, identify growth opportunities, and stay ahead of the competition. You can use social media to find out what your competitors are doing right and wrong, as well as how they are using social media to market their businesses.
What Are Social Media Factors?
Some factors of basic social media marketing can affect your business's growth:
Content Quality
Your content business will succeed if you produce high-quality content for businesses and promote it on social media. High-quality content that is relevant, informative, and engaging is more likely to drive engagement and be shared by users.
Target Audience
Understanding the target audience is key to creating effective social media marketing. By knowing their preferences, interests, and behaviors, businesses can tailor their content and approach to increase engagement and drive conversions.
Posting Frequency
The frequent rate of posting on social media makes your success rate higher. Posting too often can lead to audience fatigue while posting too infrequently can result in low engagement.
Timing
Timing is another important factor that can impact the success of a basic social media strategy. Posting at the right time, when the target audience is most active on social media, can help maximize engagement.
Visuals
Visual content, such as images and videos, can be highly effective on social media. If you make images with attractive visuals and information on your social media page, user engagement will increase.
Platform Selection
Different social media platforms have different audiences and purposes. You must choose the right platforms for a business, and its target audience is important for success.
Engagement
Engaging with the audience is a key factor in building relationships and driving loyalty on social media. Responding to comments, asking questions, and running polls or contests are all effective ways to encourage engagement.
Which Is Better, Organic Or Paid Social Media Marketing?
There are benefits and drawbacks to both paid and organic basic social media marketing strategies.
Organic Social Media Marketing
Organic social media marketing is free and requires no additional investment, and it is ideal for small businesses with limited marketing budgets.
It helps you build a relationship with the user where they already spend most of their time.
It also provides businesses with valuable insights into their customers' preferences, interests, and behaviors. By analyzing this data, businesses can tailor their marketing strategies to better meet the needs of their target audience.
There are also some minor disadvantages to organic social media marketing.
Slow to reach your business goals
May not be able to reach a large audience
No control over the amount of exposure your content
Paid Social Media Marketing
In this basic social media marketing, you will get instant business growth. You can get more traffic to your site and more visibility.
If you have a large business, you can advertise it on social media platforms like Facebook, Instagram, YouTube, Twitter, and LinkedIn. Spend money on your posts and let them reach your targeted audience.
You can target the right audience and gain more exposure, both of which will raise brand awareness and sales. However, it is costly because you have to spend money on paid advertisements and allow them to reach your potential audience.
Minor Disadvantages of Paid Social Media Marketing
Costly but provides an instant result.
Not all businesses can afford to spend money.
You won't always get the desired result.
How Do I Create Engaging Content For Social Media?
You should aim to create content that is informative, entertaining, and relevant to your audience.
How Do I Build A Community On Social Media?
To build a community on social media, businesses should engage with their followers by responding to comments, sharing user-generated content, and hosting contests or giveaways.
Final Words
To sum up, both organic and inorganic marketing are significant, and one shouldn't stick with a single strategy. These both have distinct meanings of their own. On the one hand, organic marketing aims to enhance a brand's online reputation and presence.
While inorganic marketing broadens the audience that is being targeted and raises brand exposure. These two require a lot of time and work to manage together. But in the end, the outcomes are worth investing your time and energy in.
All of that is covered in the fundamentals of social media marketing, and if you know how to use it well, it may help you stand out.