True to its name – Linked has with time, grown into trusted networking websites for professionals from a varied field. In 2016 Microsoft acquired Linked for a total value of $26.2 Billion1.  No wonder Linkedin has come a long way. Apart from being a networking website for professionals, Linkedin offers a great platform for businesses both small and large alike opportunity to promote their products and services.  In this article, we will look into Reasons Why You Should Use Linkedin for Digital Marketing.
It won't be unfair to call "Linkedin" as Facebook of the professional world.
Linkedin effectively filled the gap that we never knew existed. As per one report2  Linkedin is the place where nearly most of the fortune 500 decision-makers spend their spare time in.  In June 2019, they had 630 million registered members from 200 countries and now even more. It is estimated that around half of this number stays active monthly. People often ask:
1)What is the best way to use LinkedIn for marketing?         
2)How can I use LinkedIn to promote my business?
In this article, you can find answers to the above questions and several other related queries. So, without any further more ado let us start with a brief introduction for those who don't know much. Let us look into what is LinkedIn and how it works and how it is different from other networking platforms.
Can we use Linkedin as an effective Digital Marketing Tool?
Yes and No. The effectivity generally depends on whether or not you are able to fully exploit what Linkedin has to offer. But one thing is for sure, many businesses are utilizing the potential of Linkedin to promote and grow their business. Before we go into details, Let's have a brief outlook about both Linkedin and Digital Marketing so that we can connect the dots later on.
It is a social media platform designed specifically for career and business professionals. It works both ways, employers posting jobs and job seekers posting their CVs. It is a professional community which is especially well suited for personal branding. The website has some advertising but not as invasive as compared to other networking sites.
What is Digital Marketing?
As the name suggests it is a form of today's marketing which is done with the help of digital technologies. Here the products and services are marketed using internet (websites), smartphones (Google Play, Apple Store), email marketing, display or banner advertising and social media and any other digital medium.
#1 Why Should My Business Use LinkedIn?
Because apart from being a networking platform for businesses Linkedin indirectly helps with SEO too. The more active a business is in Linkedin – more are the chances that people will often visit your businesses website also. Also Similar to social signals on other social media platform like Facebook and Twitter, by some estimations of Google's algorithm, a Link to your website on Linkedin counts as much as a backlink. LinkedIn is a great resource to share/promote your business/website to the potential audience. 
Not only it will help your website but your digital profile too. Here in Linkedin, you can also demonstrate what you can do and share what you know to help other businesses. People will know and respect your business more when they will see it has been recommended by other business professionals. Same as people consider and respect recommendations more when they are given by a friend.
#2 Advertise For Free In LinkedIn By Posting Great Quality Content
 Sharing great and informative content on LinkedIn is a kind of advertising that you are doing and for free! This way not only you are selling yourself but also your brand. Produce quality content and see yourself and your brand get promoted without spending any money on advertisement.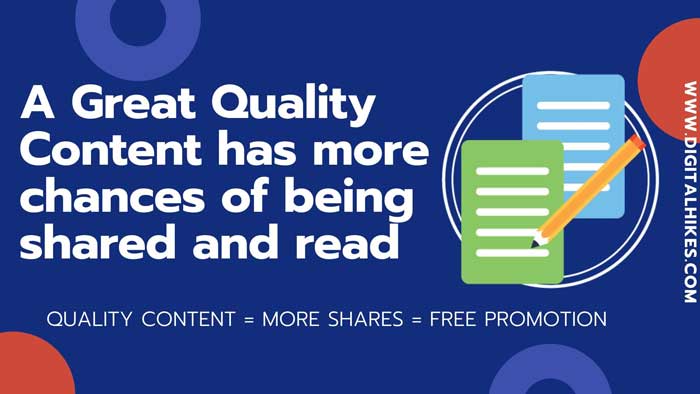 Quality of the content really matters here or you can say anywhere or everywhere. By just looking at your content people will able to tell if it is created by someone who really knows the in's and out's of a particular field or is just trying to generate a backlink. So, if you know well do it yourself and in case you are not that good then considering someone else like writing services.
Many of the professionals in your network  When someone is interested in your company, they will search you and if they find a variety of well-written content (blogs) it will have a positive effect and they will be willing to work with you. 
LinkedIn is a great tool for promoting and advertising, it's up to you to use it efficiently.
#3 LinkedIn Tips: "Show, Don't Tell"
haha, We Got You!
Make sure that you use appropriate infographics and images that make reading your content much more enjoyable. Few important tips for you. When creating content, be aware of what you are doing. Look at your content after it is finished one last time to make sure that it's not selling your business but demonstrating it's expertise. People will appreciate more if the content is readable, enjoyable and informative at the same time. Provide facts that support your case along with the source website links.
Also what you can do is to encourage others in your company to write content as well. Everyone has their own expertise and network. As they will build their reputation it will also promote and improve your company's brand.
#4 LinkedIn Groups Will Help You Grow
Search for a LinkedIn group that is relevant to your field and personal interest. The benefit of sharing in a group is that it gives your content exposure to the right audience. Groups also serve for you to expand your network list as you can meet many similar minded people over the groups. As said earlier, everyone has their own experiences and they will be willing to share it. So you don't need to repeat the mistakes they already did. When you will get stuck at some point their experience might help you to get out of it easily.
Some may also be at the same place as you are. If you read and comment on others blog, they may also do the same. As there is a saying "what goes around, comes around". You will help them grow they will help you. Networking is very important and effective in every field.
#5 LinkedIn Influencer: Boost Your Brand
Influencers on this platform can help you boost your brand and audience. You can connect to them by social media or through their own channels. Some of them join LinkedIn to monetize their influence but don't know much. If you have a piece of advice, help them and they can help you offer their influence. Make good relations with influencers and keep them.
How Do I Succeed In LinkedIn Digital Marketing using Linkedin?
LinkedIn has become an important part of the digital marketing strategy. These explained above can make a big difference not just online but offline in your life too. Talking with other people, increasing your network and getting better in expressing yourself with words are very useful in one's life. It will help you grow and become better at handling things and people.
One important thing to consider here is consistency. Anyone who has a brand and reputation today is due to their consistency in posting and participating. It is necessary to post every day or even every week. Try to do it in a fixed interval. Hopefully, this article gave you some insight into how you can effectively grow your business using Linkedin for Digital Marketing.
Let us know in the comments if we have missed anything?
Did our tips help you, If yes do let us know your story via comment
Sources:
1. https://en.wikipedia.org/wiki/LinkedIn
2. https://foundationinc.co/lab/b2b-marketing-linkedin-stats/